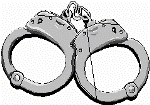 WAHPETON, ND (KFGO) – Police are investigation the death of a man who they believe was killed by his uncle.
Officers were called Friday to an apartment. When police arrived, they found the victim, 42 year-old Oscar Bynaum in a bedroom. Investigators believe the death was the result of Homicidal Violence.
The complaint says the two men got into an argument and then a fight, eventually James Bynaum placed his nephew into a choke hold. Bynaum has been charged with negligent homicide. He's in the Richland County jail.