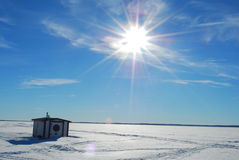 JAMESTOWN, N.D. (NewsDakota.com) – As cooler weather sets in, ice formation may be a bit better.
But for the time being, ice conditions are still not as ideal in some parts of North Dakota. North Dakota Game & Fish Wildlife Biologist Doug Leier says a prime example has been in the area.
Leier says while this may be discouraging, he still invites anglers to get out this winter.
Leier says this winter has set up good conditions for predator hunting. But hunters should also adhere to posted signs.
You can listen to Doug Leier every Thursday at 7:35 AM on Big Dog Country 95.5 FM.