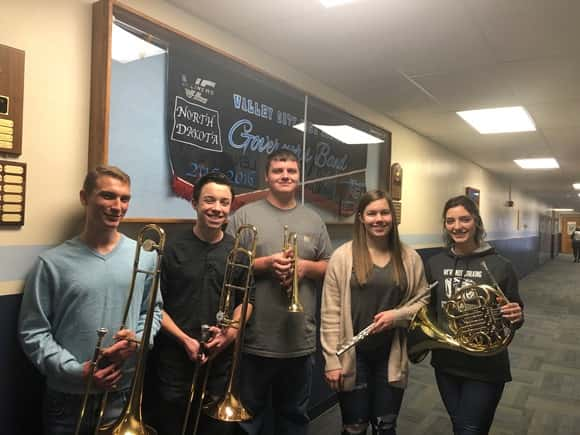 VALLEY CITY, N.D. (NewsDakota.com) – Valley City High School instrumental students competed in the EDC/State instrumental contest on December 5th at Valley City State University.
Teacher Tom Kjelland said VCHS entered a total of 32 soloists in the contest. The students received 0-III(three) ratings, 3-II(two) ratings, 18-I(one) ratings, 5- region star ratings and 6- state star ratings. Valley City High School had one student also receive an Outstanding Performance (OP) rating which means that he was the best performance in that particular venue that entire day, a huge honor. Theodore Herzog, performing a snare drum solo, received an OP for his performance at the contest. The students performed very well and represented VCHS with a strong showing at the contest.
The ratings are classified as follows: III – fair performance, II – good performance, I – excellent performance, region star – superior performance and state star – state superior performance, OP – Outstanding Performance.
Receiving II ratings were Connor Pfennig (alto sax), Tucker Johnson (mallets), and Preston Dockter (alto sax).
Receiving I ratings were Abby Peterson (flute), Buddy Scherr (tuba), Jessica Undem (percussion), Hailey Thoreson (alto saxophone),Tucker Schonert (baritone horn), Aurora Ziniel (clarinet), Luke Plagens (mallets), Tyana Judd (alto sax), Conner Remick (alto sax), Tucker Orner (trumpet), Jaytan McConnaughey (trombone), Heather Fischer (trombone), Casey Kruger (french horn), Abbie Gilbertson (oboe), Cassie Mundal (oboe), Cami Sundlie (tenor sax), Faith Orner (snare drum) and Robert Fischer (trumpet).
Receiving Region Star ratings were Avery Suhr (alto sax). Jerrica Eldridge (clarinet), Nicholas Lemier (bass clarinet), Julianne McPartland (flute), and Kailer Logan (snare drum).
Receiving State Star ratings (the highest rating at the contest) were Justin Roswick (trumpet), Owen Plagens (trombone), James Burk (trombone), Alexa Kjelland (french horn), Britta Roehrich (flute) and Theodore Herzog (snare drum). Herzog also received and Outstanding Performance designation for his performing site at the contest. There is only one OP presented per site at the contest and simply means that Theo was the best of the best in front of his judge that day.
The soloists were accompanied on piano by Daniel Wintch and Cyndi Hill who did yeoman like work to get all of our students playing with accompanied solo entries.
All in all, it was a great day for Valley City High School instrumental students as they were very successful in the EDC/State music solo contest.
Story and photos submitted by Tom Kjelland.

EDC Contest