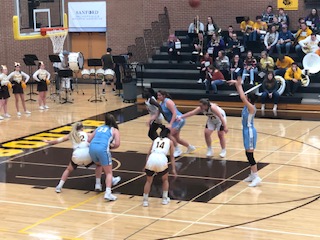 FARGO, N.D. (NewsDakota.com) – Valley City came out of the locker room firing on all cylinders in the second half and scored the first 15 points of the half to break open a three point game on the way to a 78-37 win over Fargo South Tuesday night at the Bruin Gym.
The Hi-Liner held the Bruins scoreless for the first 4:15 of the second half and built a 18 point lead in the process. In the second half, Valley City outscored Fargo South 50-12.
The Hi-Liners were led by Lindsey Noeske with 20 points and 17 rebounds. Jadyn Dieterle added 17 points and nine rebounds. Brooke Eggermont was also in double figures with 15 points and five rebounds. Hailey Thoreson chipped in eight rebounds and Peyton Pederson had five as the Hi-Liners out rebounded South 54-28. Allyson Mathias added a team high four assists.
Adie Wagner led the Bruins with 19 points.
Valley City is now 4-3 in the Eastern Dakota Conference and 5-4 overall. South falls to 2-6 in the conference and 2-7 overall.