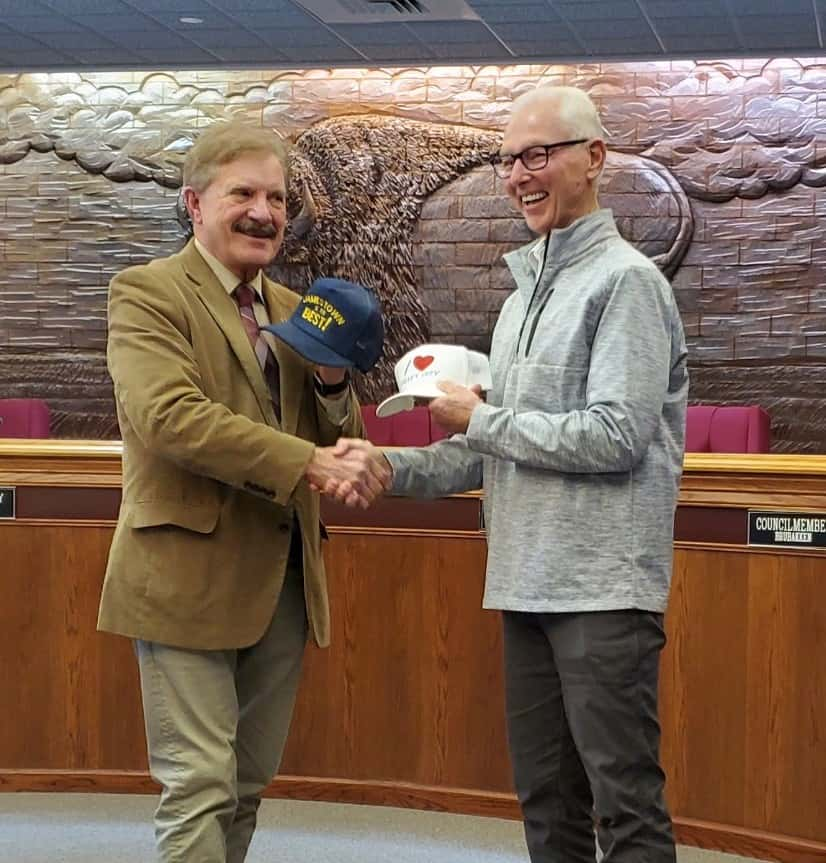 Jamestown Mayor Dwaine Heinrich (left) and Valley City Mayor Dave Carlsrud (right) exchange a handshake and city hats for the Census challenge. Photo: Emily Bivens
JAMESTOWN, N.D. (NewsDakota.com) – A challenge that counts in more ways that one pits the city of Jamestown against Valley City.
Valley City Mayor Dave Carlsrud and members of their local Complete Count Committee (CCC) traveled to Jamestown to issue a challenge to Jamestown and Mayor Dwaine Heinrich.
The competition will pit Jamestown against Valley City to see who can get more residents to respond and get counted for the 2020 U.S. Census beginning March 12th.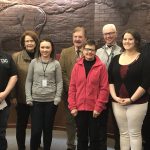 The "losing" city's mayor will have to wear a baseball cap promoting the "winning" city (e.g., "I Love Valley City") at the next televised city meeting.
The challenge is the first of its kind in North Dakota.
"The outcome will affect us all," the Census Office of North Dakota states. "Our federal funding for roads, schools, hospitals, and more is tied to our population count."
The state Census Office estimates that we stand to lose approximately $19,000 over a ten-year period for each resident that fails to be counted. That's an average of $43,000 per each average household.
The challenge is an effort to raise awareness and increase participation in the census. Mayor Heinrich thanked Mayor Carlsrud for being a good sport and issuing the challenge.
Mayor Heinrich says he's confident more Jamestown people will stand up and be counted during the self-response portion of the 2020 Census.
The counts will be monitored daily and the final tally will be available after the census response period ends July 31st. The percentage of residents in each city who voluntarily self-responded to the census will be tabulated by the U.S. Census Bureau and the winning community will be announced.
The challenge event was created by the Jamestown Complete Count Committee (CCC), a volunteer committee established by local governments and community leaders to increase awareness about the 2020 U.S. Census and encourage local residents to respond.