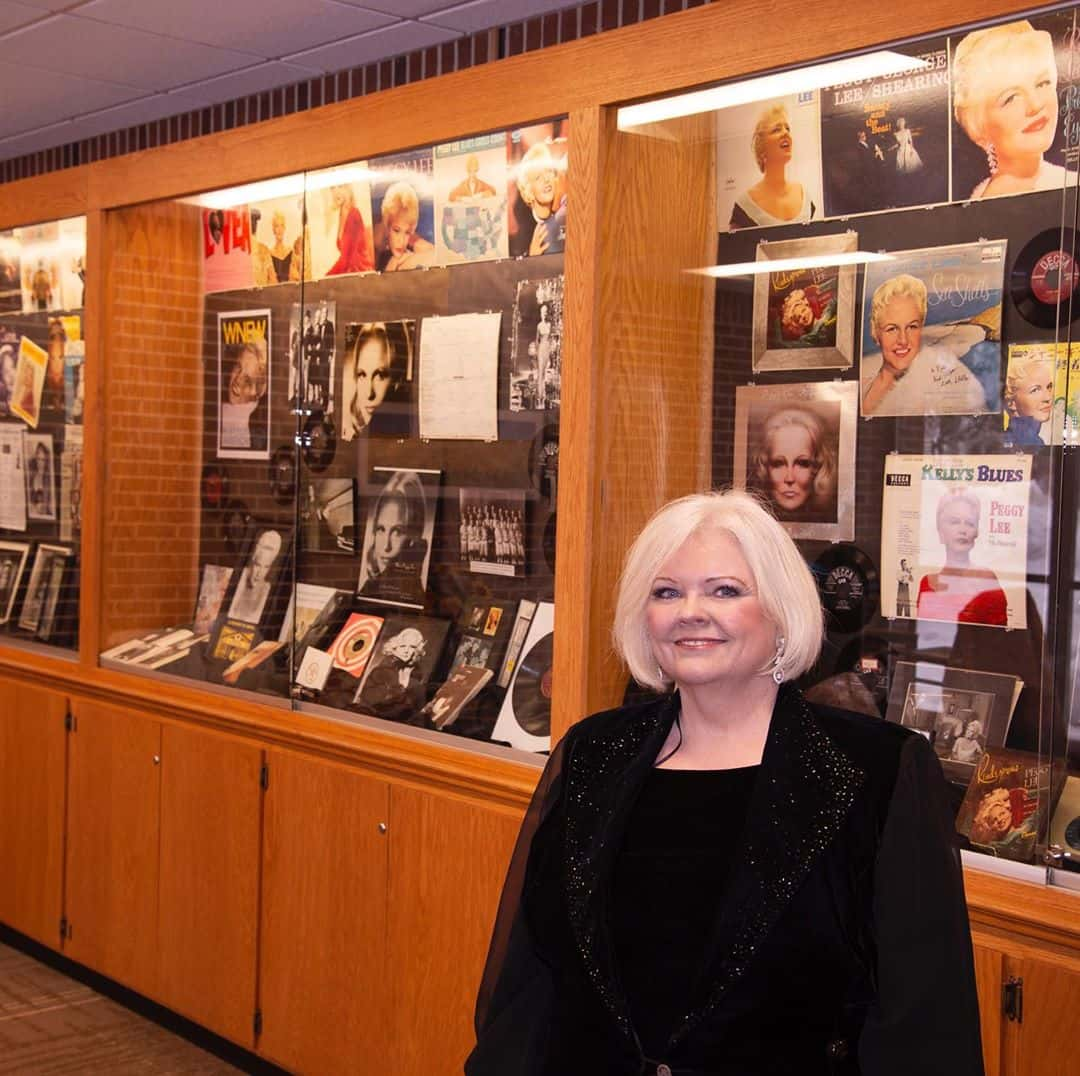 Kate Stevenson stands with her collection and artifacts on international pop icon Peggy Lee. Photo: University of Jamestown
JAMESTOWN, N.D. (NewsDakota.com) – An associate professor at the University of Jamestown has spent nearly 30 years researching, collecting, and gathering artifacts related to Peggy Lee.
Now, part of her collection is open to view by the public.
Peggy Lee, born Norma Egstrom, was known as a vocalist, actor, creator,  composer, and more.
Professor Kate Stevenson says her interest in Peggy Lee started some time ago.
Through that experience and all the research and information Stevenson dug up, she says this opened up the world of Peggy Lee.
She says today, she continues to absorb more information regarding Peggy Lee and serves as a local reference to those seeking more information on the North Dakota native.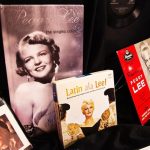 The central cabinet features Peggy Lee and her life in Jamestown, Nortonville, and Wimbledon. It includes large awards and her induction into the songwriters hall of fame.
The other cabinet features Lee's writings including her autobiography, books, and music she wrote. The final cabinet pays tribute to her cabaret career, movie career, and more. Her experiences and talents took her all over the world, allowing her to gain international stardom and collaborate with some of the biggest names in jazz history including Frank Sinatra, Benny Goodman, and Bing Crosby.
Stevenson says it's incredible what Peggy Lee was able to accomplish for herself just in the 50's.
Stevenson is calling the exhibit "Peggy Lee: International Pop Icon." It's being held as part of the campus wide International Organization week.
Stevenson will be providing an informative and open to the public discussion on her collection February 25th at 7 PM in the Raugust Library on the University of Jamestown Campus.
You can listen to a full Let's Talk About It with Kate Stevenson below: