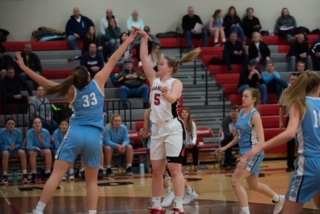 FARGO, N.D. (NewsDakota.com) – Since the basketball season ended prematurely in North Dakota, one thing was uncertain. "What about post season awards?" Well that question was answered earlier this week when it was announced that the six postseason awards would be announced beginning with Miss Basketball Friday Night and ending with Mr. Basketball next Friday.  And the four All-State teams in between.
So without further ado, I give you Miss Basketball. Reile Payne has been announced as the 2020 Miss Basketball award winner.
Payne says this softens the blow a bit after what she calls a devastating end to the season last week.
The 5'10 senior guard from Fargo Shanley finished first ahead of Callie Ronningen of Class B State Champion Langdon-Edmore-Munich. Jess Mertens of Devils Lake was third, followed by Kaity Hove of Trenton, Lakyn Darras of Mandan, Alexis Dressler of Legacy and Allie Nelson from Minot.
Payne received ten of  23 first place votes and 56 points. The senior award is voted on by members of the North Dakota Associated Press Sportscasters and Sportswriters Association.
Payne ended the season averaging 20.4 points, 11.2 rebounds, 3.5 assists and 6.2 steals per game. In what turned out to be her last game of her Shanley career, Payne scored 27 points, had 14 rebounds with five assists and three steals as the Deacons defeated Mandan 73-55 in the state semifinals. Just hours before they found out they would not get a chance to play for the title.
For her career, Payne scored 2,071 points and grabbed 1,059 rebounds. The 2,071 points places her third All-Time in Class A and second in school history behind another Miss Basketball winner, former teammate Sarah Jacobson. The 1,059 rebounds are fifth all-time and second at Shanley. Another Miss Basketball winner, Angie Welle tops the schools list.
Having a chance to watch Jacobson her senior year, Payne, who was an eighth grader on the team at the time, says she learned a lot from Jacobson.
Along with Welle, Jacobson and Sara Hokanson in 1989, Payne is the fourth Deacon to win the award. Only Mandan, with seven, has more winners.
Deacon head coach Steve Jacobson says Payne will leave a great foundation at Shanley.
Payne has recently decided to continue her academic and athletic career at Bismarck State College where she will play volleyball and basketball.
(Photos Courtesy the Payne Family)
Full Reile Payne Interview