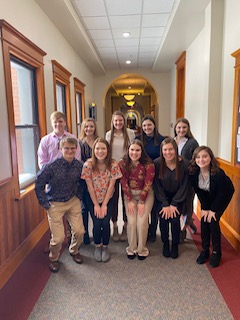 VALLEY CITY, N.D. (NewsDakota.com) – Even though the State competition was cancelled, Valley City DECA was recognized for work that was done before the state competition.
Role plays: Prior to state they take a 100 question exam. At state they do 2 different role plays. Each of those are combined together to make their total score. Since there was no state conference, they just recognized the top test scores in each role play division.
Written projects: They wrote their project prior to state and mailed it in late February. At state they present the project. The written project and presentation are combined to make their total score. Since there was no state, they placed them based on their written projects.
These are the Hi-Liners that were recognized for this work.
Maisie Leick received a first place finish in Business Management. Maddy Langemo was first in Finance Research Project.
Second place finishers were Lex Klein in accounting and Julieanne McPartland in International Business Plan.
And third place finishers were Natalie Lemnus in Apparel and Accessories and Maddy Langemo and Benton Murray in Financial Team.
Congratulations to all the finishers and to Advisor Sheila Larson who was recognized as the 2020 North Dakota DECA's OM Hager Advisor of the Year.