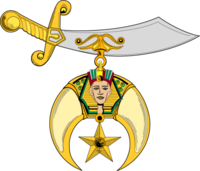 VALLEY CITY, N.D. (NewsDakota.com) – The 2020 North Dakota Shrine Bowl players represent not only some of the best seniors on the field but also off the field. Those selections were revealed last night.
Oakes' Logan Sell and Hunter Greenmyer were selected to the main roster while Gabe Quandt was chosen as an alternate. Joining the three players was Head Coach Greg Dobitz who was selected for the coaching staff. It's Dobitz' third time coaching in the game.
"It's such an amazing experience, " said Dobitz. "Getting to work with some kids, most of them playing their last football game. But there's this greater cause that we're doing all this stuff for, and that's really the rewarding and special thing about it," added Dobitz.
The Shrine Bowl may feature some of the best athletes North Dakota has to offer, but the game is played to benefit the Shriners Hospitals for Children around the country. The 22 Shriners Hopsital locations (Minneapolis, MN is the closest)  across North America aim to accomplish three things according to their mission statement:
Provide the highest quality care to children with neuromusculoskeletal conditions, burn injuries and other special healthcare needs within a compassionate, family-centered and collaborative care environment.
Provide for the education of physicians and other healthcare professionals.
Conduct research to discover new knowledge that improves the quality of care and quality of life of children and families.
Because of events like the North Dakota Shrine Bowl, in part,  these hospitals are able to provide cost-free care and conduct research.
"Each athlete that is chosen for the game is asked to raise a little bit of money," explained Dobitz. "So they go to businesses and families and get sponsorships. And then, obviously, the ticket sales and they sell merchandise at the game, too," said Dobitz.
Athletes are nominated by coaches across the state and then voted on by the coaches of the Shrine Bowl teams. Coach Dobitz said it was an easy decision nominating Sell, Greenmyer and Quandt for the team.
"Super easy to nominate those three kids," said Dobitz. "They're good students, they're good athletes, they're good people, they come from good families… to put the cherry on top of that, they're really good football players, too," added Dobitz.
Other local players joining the Oakes players on the Shrine Bowl rosters are Lisbon's Ethan Lyons and Sam Rieger, Valley City's Riley Gerhardt and Carrington's Seth Nelson. Other alternates include Valley City's Mitchel Taylor and Austyn Thornton, Carrington's Colton Buskness and Ellendale-Edgeley-Kulm's Kodie Slivosky.
The Shrine Bowl is slated for July 18 at Fargo South High School. The afternoon begins at four o'clock with the 11-man game followed by a 9-man game.
For more information on Shriner's Hospitals or to donate visit the link below.