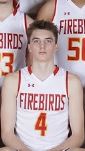 DEVILS LAKE, N.D. (NewsDakota.com) – For the first time in 14 years and the second time in school history, Devils Lake is home to Mr. Basketball.
Grant Nelson was named Mr. Basketball Friday night, joining Travis Mertens as the only two Firebirds to earn the award. Mertens was named Mr. Basketball in 2006.
Nelson finished his senior season averaging 24.6 points, 18.3 rebounds, 2.6 assists 1.1 steals and 5.7 blocks per game. The Firebirds reached the state tournament for the first time since 2016. They lost to defending state champ Jamestown 71-54 in the opener and 73-64 to Dickinson in the consolation semifinals before the rest of the tournament was postponed.
In the state tournament, Nelson scored 27 points had 14 rebounds with three assists and five blocks in the loss to Jamestown in the quarterfinals. Against Dickinson he had 26 points, 19 rebounds, two assists, and three blocks.
Nelson received 13 first place votes and had 88 points. Jamestown's Boden Skunberg was second in the voting. Nelson and Skunberg were unanimous selections to the Class A All-State team and will be teammates next season with North Dakota State.
Skunberg finished the season averaging 28.4 points, 11.1 rebounds, 2.8 assists and 1.6 steals per game. Skunberg's season was cut short because of an injury.
Other finalist were Carson Henningsgard of Hillsboro-Central Valley, Jaxon Gunville of Minot, Cole Myers from Richland, Elijah Klein of Mandan and Jaden Mitzel from Shiloh Christian.
The award is voted on by members of the North Dakota Sportscasters and Sportswriters Association.