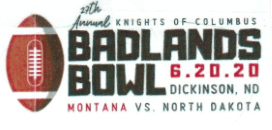 VALLEY CITY, N.D. (Newsdakota.com) – When there is a song that represents a certain situation, a person would say.."cue (insert name of group here) when they would begin to talk about that situation. Friday, one would say, " cue Queen".
The song that would come to mind is "Another One Bites the Dust."
Three high school All-Star sporting events were cancelled on Friday due to the Coronavirus pandemic and the protocols that are in place to keep us safe and healthy.
The last one that was cancelled was the Badlands Bowl. That is the annual football game that is played between seniors from Montana and North Dakota. This year's game was to be played June 20th in Dickinson.
It would have been the 27th Badlands Bowl and sadly the last one. The game was gong to be discontinued after this summer.
Other All-Star games that were cancelled on Friday were the the Lions Al-Star basketball games, and the NDHSCA/Optimists All Star Volleyball series. Thursday the North Dakota Shrine Bowl football game was cancelled.
Wednesday the Scheels Softball All Star series rosters were announced even though the games were cancelled May 4th.
Five Valley City Hi-Liners were selected to participate in some of these events. Jessie Undem is on the East All-Stars for the Scheels Softball series. Riley Gerhardt is on the 11-man east roster for the Shrine Bowl. Mitchell Taylor and Austyn Thornton are alternates. And Macy Olstad is on the East All-Stars roster for the Optimist Volleyball series.
All of the organizations said in their press releases that the athletes that were chosen for these games will get the recognition that they so richly deserve even though they will not be participating in the activities that surround their particular even.
And by no means are these student/athletes athletic careers over. For most, if not all, of these All-Stars will continue their careers in college.