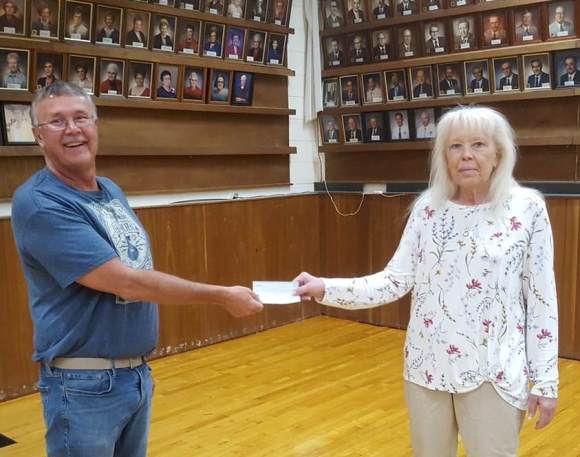 VALLEY CITY, N.D. (NewsDakota.com) – Barnes County Wildlife Club President Perry Kapaun presenting a check to the Pat Hansen the Barnes County Food Pantry Director during the Big Spender Ticket drawing at the Eagles Club in Valley City on May 16th.
The Barnes County Wildlife Club and North Dakota Wildlife Federation donated money that would have been used to cover the food portion of the Big Spender Ticket event to the Barnes County Food Pantry.
Big Spender Ticket Prize Winners listed below:
1st Polaris Ranger or $15,000 Sue Kapaun
2nd Browning Rifle Randy Klien
3rd Gas Grill CJ Johnson
4th Henry 22 Dave Martin
5th Henry 22 Diana Logan
6th Henry 22 Jeanne Burchill
7th Henry 22 Mike Kerzmen
8th Henry 22 Clay Adams
9th Henry 22 Nikki Cross
10th Henry 22 Scott Morse
11th Henry 22 Jeff Bucholtz
12th Henry 22 Brice Kuskie
13th Henry 22 Curt Horner
14th $200 Jimmy Heinze
15th $200 Joe Insensee
16th $200 Dirty Johnny's
17th $200 Cory Klubben
18th $200 Jeremy Swanson
19th $100 Laretta Luksdahl
20th $100 Brandon Kuntz
21st $100 John Bradley
22nd $100 Paul Piatz
23rd $100 Betty McMillan
Feature photo is Perry Kapaun handing a check to Pat Hansen as they both honor social distancing during the event in Valley City.