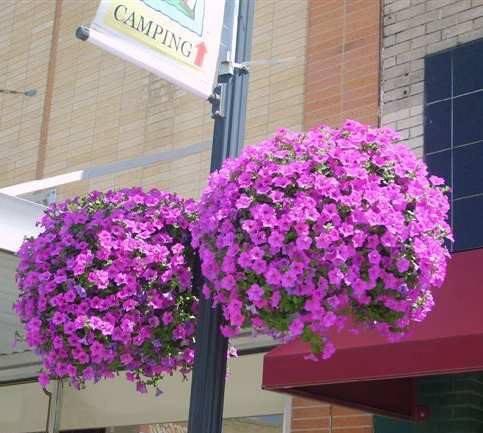 Photo: Jamestown Downtown Association
JAMESTOWN, N.D. (NewsDakota.com) – An annual tradition for the Jamestown Downtown Association (JDA) and Chamber of Commerce City Beautification Committee is in need of some help this year.
The hanging baskets that adorn 1st Avenue in Jamestown have always been a welcoming sight. Recently, both groups made the move to purchase self-watering baskets and ensure they stayed healthy over their lifespan.
JDA President Lynn Lambrecht says because the program relies entirely on donations from businesses and individuals, the increased cost has left them seeking more donations and grants.
Lambrecht says any funds raised this year will help offset the expense of the self-watering planters, which cost around $200 apiece. She added that they have already purchased some last year and will finishing ordering the rest of them this year and next year.
The planters are currently waiting to be hung by the Jamestown Street Department and were prepared by Nick at Harmsen's Greenhouse in LaMoure.
Lambrecht says she understands that some who may have donated in the past may not be able to this year, but adds that any donation will help them and ultimately decrease the cost of the program for the future.
If you have questions or would like to make a contribution, contact Lynn at 701-320-7217 or Nancy at 701-269-3148.