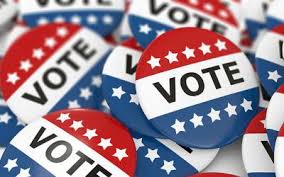 JAMESTOWN, N.D. (NewsDakota.com) – The following are the unofficial results from the 2020 primary election June 9th in Stutsman County.
A total of 4,598 ballots were cast, with 3,094 voting Republican, 1,119 voting Democratic-NPL, 14 Libertarian, 371 Nonpartisan, and 3 blank.
In the District 12 Senate race for Republicans, Cole Conley received 1,320 and Will Mickelson received 298. In the Democratic race, John Grabinger received 762 votes.
In the District 12 State Representative race for Republicans, Bernie Satrom received 1,209 votes with Mitch Ostlie getting 1,015 and Grant Christensen received 972. For the Democrats, Pam Musland received 709 votes and George Barnes received 671 votes.
In the Stutsman County Commissioner election, Joan Morris received 2,634 votes, Mark Klose had 2,573, and Jill Gainer had 2,200. There were two open seats this year.
In the Jamestown City Council election, Brian Kamlitz was the top vote getter with 2,304, Dan Buchanan received 1,904, David Schloegel had 1,895, and Pam Phillips received 1,688. There were three open seats this year.
In the City Park Board election, Mark Ukestad had 2,413 votes and Ron Olson had 2,152. There were 183 write-in votes. There were ttwo open positions.
In the School Board race, Aaron Roberts received 1,855 and Steve Veldkamp had 1,248. There was one seat for District #1 V1.
In the District #1 V3 School Board election, Gayle Nelson was the top vote getter with 2,379, Diane Hanson with 2,365, Roger Haut with 2,319, and Jamie Bear with 2,251. There were three open seats.
For Jamestown City Measure #1, 2,777 voted yes with 312 voting no. For the Jamestown School District Measure #1, 3,328 voted yes with 388 voting no.