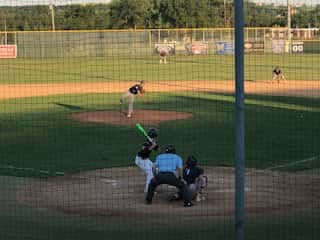 VALLEY CITY, N.D. (Newsdakota.com) – The Valley City Royals opened the Valley City Invitational Baseball Tournament with a resounding 11-1 win over the Minot Metros Friday night at Charlie Brown Field.
The tone was set right away in the first inning. Minot got two guys on with a walk and a catcher's interference with one out. But then Jacob Johnson slammed the door but striking out the next two hitters looking to end the threat.
In the bottom of the first, with one out and Avery Bennefeld on second after he walked and stole second, Johnson hit a long to the right-center field gap. When the outfielders took a little to long to get to the ball, Johnson circled the bases for a two-run inside-the-park home run.
The Royals added two more in the second. Bennefeld drove in one with a double. An rbi single by Mitchell Taylor made it 5-0 after three. Riley Gerhardt's two run single highlighted a four run fifth to make it 9-1.
Johnson would drive in another run in the sixth and Austyn Thornton ended the game early with a rocket base hit to right center field to score Taylor to make it 11-1.
Johnson got the win on the mound. He did not allow a hit or a run in three innings.He walked one, hit a batter and fanned eight. Braxton Jorissen allowed three hits, one unearned run with a walk and a strikeout. Austyn Thornton gave up a hit and walked a batter in the sixth.
Offensively, the Royals had 17 hits as ten different players had at least one. Eight scored runs and seven drove in runs. Bennefeld, Taylor and Riley Gerhardt had three hits each. Corey Nelson had two and six different players had one. Johnson drove in three.And Gerhardt had two rbi.
Valley City is now 12-3 on the season. The will wrap up pool play Saturday versus Hatton-Northwood at 7pm. That game can be heard on AM 1490 KOVC/96.3 FM and video streamed live at newsdakota.com. Coverage begins at 6:45.
In the first game of the day. Grafton score 11 runs in the bottom of the sixth to pull out a 12-8 win over Breckenridge.
Saturday's Schedule
10:00am – West Fargo Vets vs. Breckenridge
1:00pm – Minot Metros vs. Hatton-Northwood
4:00pm – Grafton vs. West Fargo Vets
7:00pm – Valley City Royals vs. Hatton-Northwood
All games are video streamed live at newsdakota.com on the video page
Pool B Standings                                           Pool A Standings
Grafton              1-0                                        Valley City              1-0
West Fargo       0-0                                        Hatton-Northwood 0-0
Breckenridge    0-1                                         Minot                     0-1