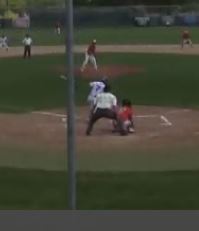 VALLEY CITY, N.D. (Newsdakota.com) – Another strong pitching performance by a Valley City Royal, this time it was Alex Thornton's turn. The right hander tossed a complete game two-hitter leading the Royals to a 3-0 win over West Fargo and a spot in the Championship gameof the Valley City Senior Babe Ruth Baseball Tournament.
GAME #5: Valley City 3, West Fargo 0
The right hander walked three, hit two and struck out three. At one point in the middle of the game he retired eight straight batters and eleven out of 13.
Eastin Heisler held the normally loud Royals bats quiet. He allowed three hits over five innings with two walks, two hit batters and two strikeouts.
For Valley City, the runs came in the second on a base hit from Corey Nelson. In the third, the Royals added two more. Riley Gerhardt had an rbi fielder's choice and Jacob Johnson scored on a wild pitch.
Grady Karges, Riley Gerhardt, Easton Hesch and Nelson had the hits for Valley City.
GAME #3 – West Fargo 2, Breckenridge 1
Earlier in the day, West Fargo slipped by Breckenridge 2-1. They scored two runs in the first on rbi singles by Casey Reber and Matt Heupel.
Reber made it hold up as he went the distance and allowed three hits and one run in seven innings. He struck out three and did not walk a batter.
Emmit Vig scattered five hits over 5 2/3 innings for Breckenridge. He allowed two runs, one earned with four walks and six strikeouts. Breckenridge's lone run came ion the fifth on a rbi double by Collin Roberts.
GAME #4 – Minot 4, Grafton 3
Morgan Nygaard's rbi single in the top of the seventh inning broke a 3-3 tie and left the Minot Metros to a 4-3 win over Grafton.
Everytime Minot would take the lead, Grafton answered, until the seventh.
Minot took a 2-0 lead on Nygaard's two run single in the second. In the home half, Grafton tied it at 2 with rbi singles from Riley Eide and A.J. Votava.
Eli Nissen's run scoring single in the fifth made it 3-2 Metros, but Grafton would answer in the bottom half of the inning on Josh Keeley's rbi single.
In the seventh, Aden Stewart was hit by a pitch to lead off the inning. After he stole second and went to third on a wild pitch, he would score on Nygaards soft liner to left field for the game winner.
Sunday Schedule:
11:00am – Minot vs. Breckenridge – 4th/5th Place game
1:30pm – West Fargo vs.Grafton
4:00pm – Valley City vs. WF/Grafton Winner – Championship
All games will be video streamed live on newsdakota.com on the video page. Valley City's game will be on 1490AM/ 96.3 FM KOVC and Newsdakota.com with coverage beginning at 3:45.