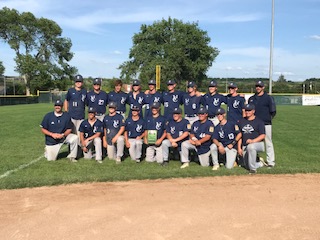 VALLEY CITY, N.D (NewsDakota.com) – It wasn't one of their best offensive performances but the Valley City Royals used strong pitching by Connor May and Braxton Jorissen to slip past West Fargo 2-1 in the championship game of the Valley City Sr. Babe Ruth Baseball Tournament Sunday afternoon at Charlie Brown Field.
May started off sluggish when he dropped a routine pop up and hit a batter in the top of the first inning. But he would settle down and retire nine in a row and 11 of 12 after that. While he was holding the Vets batters at bay, the Royals offense plated two runs in the third inning.
With one out, Jacob Johnson walked, went to second on a wild pitch then came in to score on Alex Thornton's rbi single, Thornton took second on the throw. After Riley Gerhardt reached on an error and Connor May walked to load the bases, Thornton would score on a Matt Heupel's second wild pitch of the inning.
West Fargo got their only run on a wild pitch with two out on the fifth but could not get any closer.
May allowed two hits and one earned run over five innings. He walked one and struck out five for his first win of the year. Braxton Jorissen pitched two shutout innings in relief for the save his first of the year.
Riley Gerhardt had two hits for the Royals. Grady Karges, Alex Thornton and Connor May had the other hits
West Fargo falls to 13-5 on the season while Valley City improves to 14-3. The two teams will meet again July 16th in West Fargo
Next up for Valley City, they will travel to Fargo to take on the Jets Tuesday night. First pitch is at 5:30 and coverage begins at 5:15 on 1490AM/96.3 FM KOVC and newsdakota.com.
In the other games on the final day.
Minot won in walkoff fashion 8-7 over Breckenridge when Jonas Bubach, who led off the inning with a double, scored on an error in the bottom of the seventh inning.
West Fargo reached the title game when Skyler Hoard came one strike away from a perfect game. As the Vets beat Grafton 8-0.
The Vet right hander retired 20 batters in a row and had two out in the top of the seventh. He had Jaxson Bjornson down in the count 1-2. Bjornson hit slow roller towards third basemen Sam Carpenter. But Carpenter misplayed the ball and it went through his legs for an error. Hoard would strike out the next batter and settle for a no-hitter. He struck out 11 in the win.