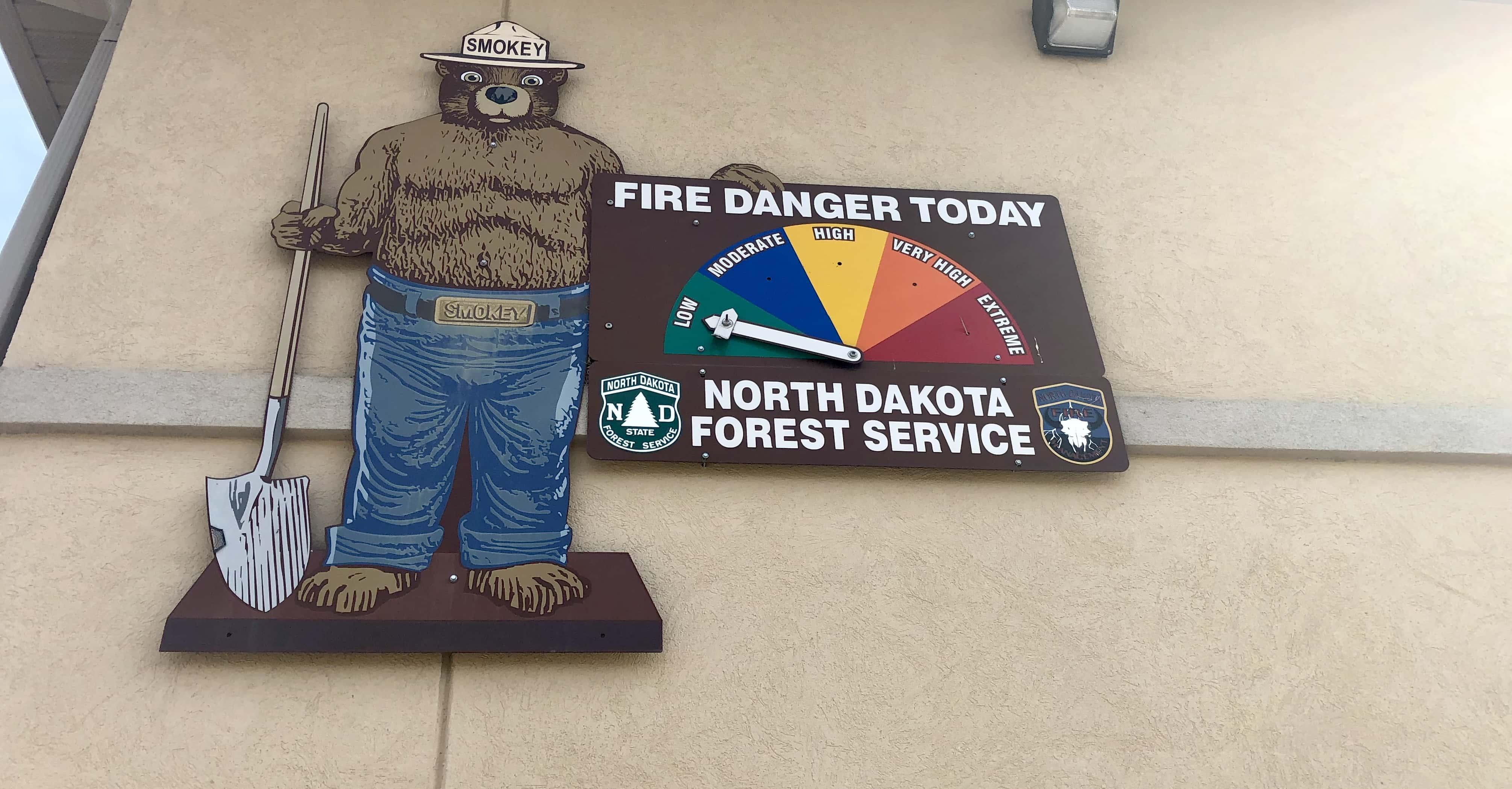 By Aubrey Davis, ND Forest Service
BISMARCK, N.D. (NewsDakota.com) – Many areas of North Dakota are currently facing a drought, yet the Daily Fire Danger Rating still indicates low to moderate risk for many parts of the state.
North Dakotans may be wondering how this is the case and what determines the Daily Fire Danger Rating.
The Daily Fire Danger Rating is a forecast for the potential for undisturbed native vegetation to carry fire. In order for fire to spread, three things are necessary – fuel, oxygen, and heat. Fuel is made up of the vegetation that covers the ground. Oxygen is readily available in our atmosphere. Heat can be made by many means – such as a spark by a human using fire, dragging chains, etc. or naturally occurring via lightening.
The Daily Fire Danger Rating provides an indication of how difficult a fire may be to control, so while many areas are currently in a drought, conditions will vary depending on many factors that impact the fuels, such as relative humidity and wind. North Dakota fuels are heavily influenced by how much moisture is present in both the fuel itself and the amount of moisture that is present in the thatch layer. When fuels are still holding moisture, wildland fires may still start, but are less likely to spread quickly. Currently, many areas in North Dakota still have some green grass that are holding moisture despite the drought. Though these conditions can change very quickly depending on the various factors that impact fuels, the moisture in the fuels is why the danger fire rating has recently been low to moderate.
The rating contains five levels: Low, Moderate, High, Very High, and Extreme. If a fire ignites, it is more likely that it would grow or spread during higher rating days and may be difficult for fire departments to suppress. The Fire Danger Rating is issued by the Missoula Fire Sciences Laboratory daily around 600 AM CDT (500 AM MDT) for each of North Dakota's 53 counties. To check the Daily Fire Danger Rating and learn of local burn bans, visit the ND Response website at https://ndresponse.gov/.
It is important to remember ABC – Always Be Careful with fire. When care is not taken, fires can be started, even when the Daily Fire Danger Rating is low. For example, when using fireworks to celebrate this Independence Day, please keep a bucket of water or a hose nearby to quickly douse a fire.
If a fire occurs and cannot be put out with a bucket of water or hose, call 911 immediately to seek help from your local fire department.