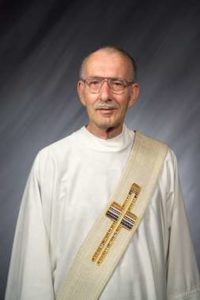 Deacon Eugene "Gene" Klein, 85, Valley City, ND died peacefully at the Sheyenne Care Center in Valley City on June 25, 2020.  The funeral mass for Gene will be celebrated on Thursday, July 2, 2020 at 10:30AM in St. Catherine Catholic Church, Valley City.  The wake will be held at St. Catherine Church as well beginning at 7:00PM, Wednesday, July 1, 2020, with public visitation starting at 5:00PM.  He will be laid to rest at St. Catherine's Cemetery.
Gene was born on September 4, 1934 in Jamestown ND to George and Anna (Fiedler) Klein- the 7th of seven sons.  He attended Eckelson High School and UND where he received a Master's degree in chemistry and was considering Pre-Med but decided to farm near Eckelson.  He married Dorothy (Ford) Diemert on October 20, 1966 (a widow with four children) so he had an immediate family.  He continued to farm while the family lived in Valley City.
Gene had a strong faith and was an active member of St. Catherine's Catholic Church.  He was an ordained Deacon and along with his wife worked with engaged couples and couples with hurting marriages. He was also involved with the REACH program.
He had many interests and talents and was very involved with his community.  He was meticulous about everything he did. Due to his strong interest in horticulture, he was an avid gardener and involved with the Soil Conversation District.  Gene served in the Army and was a candidate for ND house of Representatives. He sang with the Valley City Troubadours and worked as a volunteer with the Barnes County Museum.  Gene enjoyed going to auctions and buying old furniture that he refinished.  He enjoyed singing with his wife as she played the piano. He loved his cat BO who was his nap buddy.
Gene is survived by daughter, Corlee (Michael) Fink; son, Steven Diemert; brother, Robert Klein and many sisters-in-law, nieces and nephews from the Klein, Ford, and Diemert sides of the family.
Gene was preceded in death by his wife, Dorothy; sons, Rob and Rick Diemert; brothers, Louis, Vernon, Cliff, Don, and Jim; and brothers-in-law, Ken and Don Ford.
For their tremendous and compassionate care of Gene, a special thank you goes out to nurses and staff at Sheyenne Care Center, his doctors, and Hospice Care.
In lieu flowers of flowers, the family prefers donations to be made to St. Catherine's Church REACH (524 3rd Ave NE, Valley City, ND).
Lerud Mathias Funeral Home is assisting Gene's family with arrangements.  An online guestbook and tribute page can be found at www.lerudschuldt.com.  The funeral service will be recorded and able to be viewed here as well.