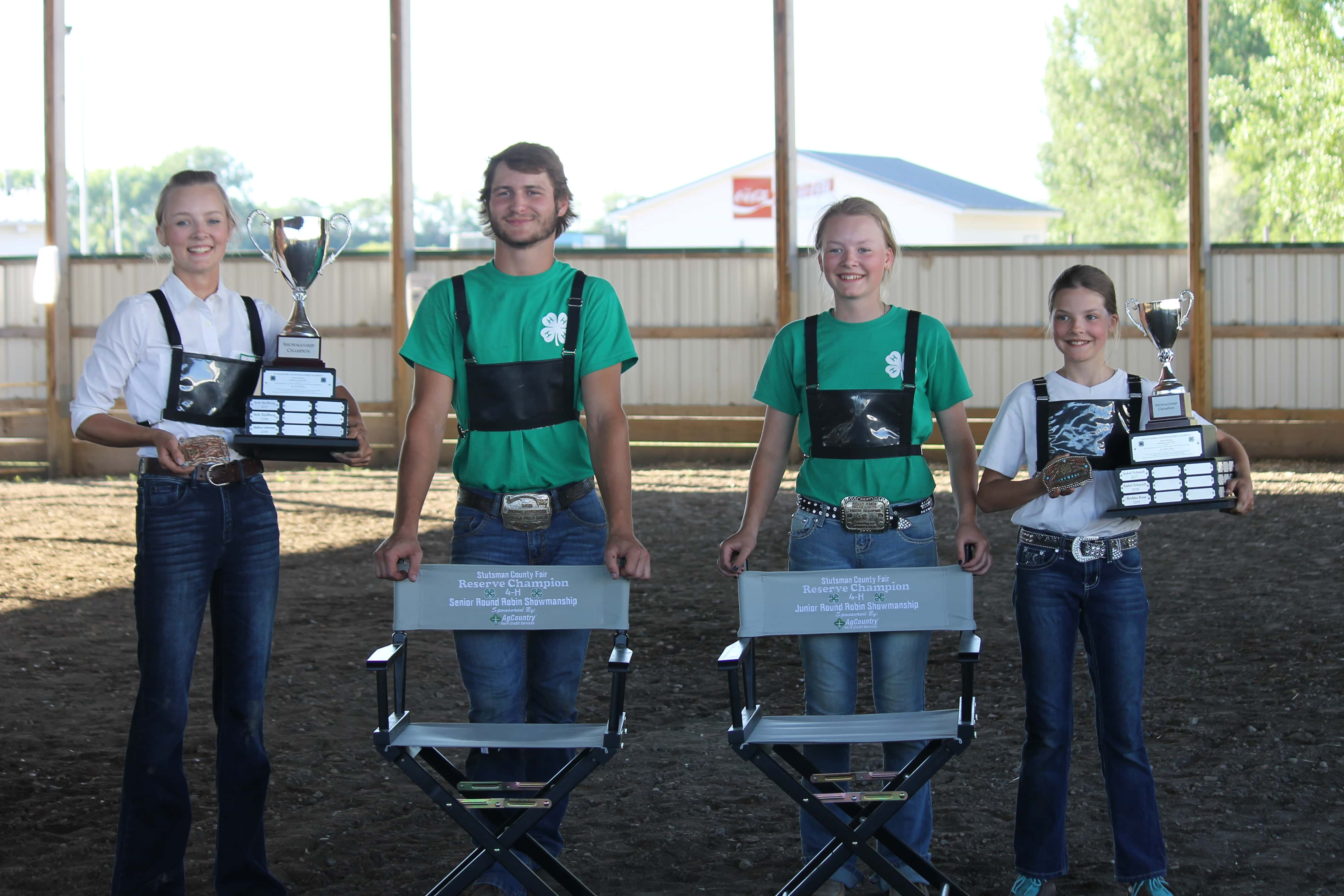 Photo L to R: Senior Champion Chayla Kuss, Reserve Champion Brett Wendel, Reserve Champion Bekka Kuss, and Junior Champion Cyrena Kuss
Submitted by Robin Barnes, NDSU Extension of Stutsman County
JAMESTOWN, N.D. (NewsDakota.com) – The annual round robin showmanship championship competition was held June 26th at 6:30 pm at the fairgrounds.
This is an overall championship competition for the junior and senior showmanship winners each of the beef, dairy, goat, sheep and swine shows. Five juniors and five seniors competed for the coveted titles. The champion receives a belt buckle and their name on a perpetual trophy.
The reserve champion receives a captain's chair.
This year, the senior belt buckle was sponsored by Daven Dockter, and the junior buckle was sponsored by Jason & Heather Rohr. The chairs are sponsored by an employee program from AgCountry Farm Credit Services.
The perpetual trophy was donated 4 years ago in memory of Mona Williams who, when in 4-H, met her husband during a round robin competition at the Stutsman County Fair.
Our senior champion this year was Chayla Kuss and reserve champion was Brett Wendel. Our junior champion was Cyrena Kuss and reserve was Brekka Kuss.
Stutsman County 4-H would like to thank all those who helped with the event and the 5 judges who gave their time and expertise to judge these kids: Brian Zimprich, Vanessa Ponterio, Clay Sundberg, Tayler Wolff and Courtney Wolff.
If you have any questions about 4-H, please call the NDSU Extension Stutsman County office at 701-252-9030 and ask for Robin Barnes.