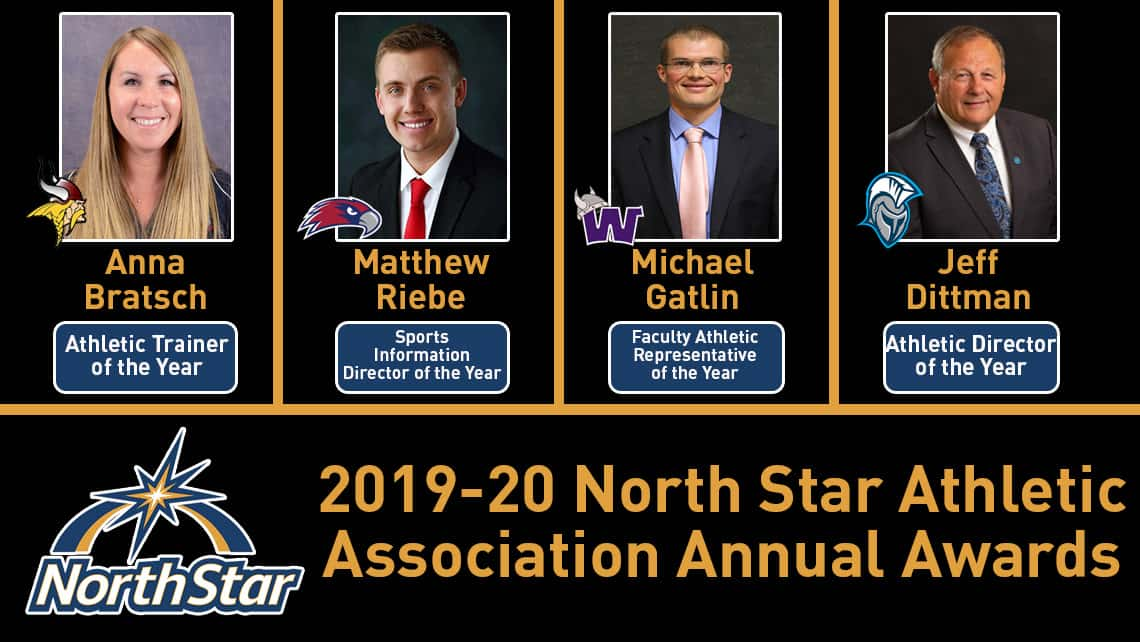 MADISON, S.D. – The North Star Athletic Association (NSAA) announced its annual awards via through a virtual show Tuesday. The NSAA conference recognized the following award winners for the 2019-20 academic year in Coach, Team, Athletic Training, Sports Information Director, Faculty Athletic Representative and Athletic Director. 
The NSAA virtual awards show recognizes the regular-season champion teams, tournament champions, as well as the Coach-of-the-Year honors. 
Below are the following awards from the North Star Athletic Association conference with the comments from the school's athletic director and/or colleagues. 
Athletic Trainer of the Year: Anna Bratsch – Valley City State (N.D.) "Anna has been at VCSU for five years as our Head Athletic Trainer and has been a breath of fresh air," stated Valley City State's (N.D.) athletic director Jill DeVries. "She is consummate professional when dealing with both student-athletes and coaching staffs as well as administration." 
Bratsch has taken the reigns and become our staff advisor to our Student Athlete Advisory at VCSU. She helped to encourage engagement and growth of this group and lead the NSAA charge in dealing with mental health issues of student-athletes. 
"Anna believes in positive communication to get the best out of people," added DeVries. "Anna is a great listener, and the student-athletes trust that she has their best interest at heart and is working with them to accomplish their gorals of competing at the highest level." 
"She has a collegial rapport with the coaching staff and they too trust she is doing all she and her staff can to make VCSU athletics successful," said DeVries. "Anna is sure to allow her staff professional developmental opportunities and is always looking for the latest innovations/therapies in her field. She is kind and caring and it shows in the smile she shares readily around the W.E. Osmon Fieldhouse." 
Sports Information Director of the Year: Matthew Riebe – Viterbo (Wis.) Matthew Riebe serves as Viterbo (Wis.) Coordinator of Athletic Communications and Events. On the Athletics Communications/SID portion of his job, he coordinates all marketing, public relations, media coverage, website maintenance, photos and statistical data for all competitions. He writes and publishes post-game press releases for all V-Hawk home and away events relaying the stories to media outlets and sharing statistical information to the NSAA and NAIA. 
His work serves 19 intercollegiate teams, 35+ head/assistant coaches and well over 350 student-athletes and their families. His work with the website, social media, and video streams impact hundreds and in some cases thousands of fans, alumni, parents or family members who watch, read about or follow our events via our social media platforms. 
"I know that all of our NSAA SIDs have similar job responsibilities and all do a phenomenal job," said Viterbo's athletic director Barry Fried. "I'm nominating Matt for some of the 'extra' behind the scenes work he does. Often when we think about the Champions of Character program, we think of coaches' impact and the students' impact, but we don't hear about how administrators or SIDs help carry out the values." 
"Matt's dedication to serve Viterbo's students and staff, willingness to always put others before himself, and humble and grateful personality is what makes him special," added Fried. "Matt has become a person in our department that all coaches and staff trust and can count on." 
Riebe assisted with the recent North Star Athletic Association basketball conference championships in Watertown, S.D., taking photos, wrote stories and published social media updates for the fans. "That's who he is, he did it because he wanted to provide support for the opposing students and fans as well – not just Viterbo students," said Fried. 
"He is a servant-leader. His character, integrity and servant-leadership mentality embody what the NAIA Champions of Character initiative is all about," stated Fried. 
Faculty Athletic Representative of the Year: Mike Gatlin – Waldorf (Iowa) "Mike drops everything for our student-athlete to make sure they are compliant," said Waldorf's (Iowa) athletic director Chad Gassman. "He takes the job seriously but enjoys it. He does not treat being s far as a burden but as a service to our department. Mike is extremely meticulous and organized. On a side note, he is an outstanding professor also." 
"Mike is an invaluable member of our North Star FAR team," stated Dave Bass, Valley City State' FAR and NSAA's Eligibility Chair. "He manages a large number of student-athlete eligibility cases for Waldorf University, and his conscientious approach to following NAIA legislation sets a standard for all Faculty Athletics Representatives." 
"Mike is also a valuable member of our NSAA Eligibility Committee where his insights are helpful to all committee members," added Bass. 
Athletic Director of the Year: Jeff Dittman – Dakota State (S.D.) "Jeff supports all of our athletics programs," said Dakota State's (S.D.) Sports Information Director Nick Huntimer. "He really worked hard to communicate with all of us on staff. He provided meals to the athletic teams, take time to meet with the parents and student-athletes." 
"He is not afraid to jump in and help with whatever is needed, whether it's concessions or cleaning or taking care of the Trojan Athletic Club's hospitality room," added Huntimer. 
Since his return to Dakota State in 2012 to become an athletic director, Dittman established the Trojan Athletic Club (TAC) with membership numbers increasing each year. The TAC also established the annual Wild Game Feed, which kept setting record numbers each year. 
Dittman was the driving force that established the creation and administration of DSU's 'Ag Bowl', which started in 2016. "Ag Bowl is a cooperative effort between the Madison area agriculture businesses and DSU Athletics as a way of showing our appreciation to one of the most important economic groups in our area," explained Huntimer. 
In 2017, DSU established a new football attendance record of 5,500 fans in the annual Ag Bowl game after a 56-39 victory over long-time rival Dakota Wesleyan (S.D.). It was also the first DSU sports' game to be televised live on Midco Sports Network channel. 
Dittman also helped with the creation of the annual 'Ag Ball' basketball game in 2019. 
The Trojan Athletic Club also started the 'Frozen Trojan' for the first four years. Dittman also established the annual Trojan Scramble golf tournament in Sioux Falls, S.D. 
As part of Dakota State's growth in numbers of student-athletes and teams, Dittman assisted with the implementing of the Athletics Master Plan. Esports was added to the list of Dakota State's athletics teams, which started during the 2019-20 academic year. 
Dittman was the lead role to earn a pair of bids to host national tournaments, where Dakota State hosted for the past three seasons. DSU, in conjunction with Northwestern (Iowa) and the Sioux Falls Sports Authority, hosted the NAIA Division II Men's Basketball National Tournament at the Sanford Pentagon for the past three seasons. 
Dakota State also hosted the NAIA Indoor Track & Field National Championships at Sanford-Jackrabbit Athletic Complex in Brookings for the past two seasons. The NAIA recently extended the contract for DSU to host the national indoor track & field meet through the 2022 season in Brookings. "Those national tournaments that Dakota State hosted had brought economic impact to the cities of over millions of dollars," said Huntimer. 
Dittman set up the NAIA's Champion of Character event at the recent NAIA Indoor Track & Field National Championships in Brookings, S.D. He established the Captain's Council to hear what the student-athletes had to say about things and get them more involved as halftime activities. 
When Dittman returned to Dakota State for his second stint, he coached the women's basketball team where he accumulated 296 victories (1993-2008 and 2012-17). His 296 wins is the most victories by any DSU women's basketball head coach in program history. 
He took the Lady T's squads to the NAIA Division II Women's Basketball National Tournament six times in a span of nine years during the decade of 2000. 
During Dittman's era as athletic director, the Trojans recently won back-to-back conference championships in men's cross country and men's indoor track & field. Dakota State also won North Star conference titles in men's outdoor track & field, women's cross country and men's basketball. 
The Trojan Athletics department also has achieved success academically. Dakota State had set a school- record of 46 student-athletes on the 2019 NSAA Fall Sports Scholar-Athletes list. In addition, the Trojans had at least five programs being named to NAIA Scholar Team since Dittman's return to Dakota State in 2012. 
He also served on various positions in the North Star conference as chair and oversight committees. 
"Jeff helped guide the sports programs through the recent massive flooding that impacted the Madison area last September," added Huntimer. Projects included sand bagging, help with assisted living relocation, and clean-up efforts with the community of Madison. 
"Dakota State was on the verge of winning their first-ever NSAA Commissioner's Cup this year as well," said Huntimer. "DSU was leading the conference in a tight race with 46.75 points after the winter sports season was completed until the COVID-19 pandemic that ended the spring sports season." 
Nick Huntimer, North Star Athletic Association Sports Information Director