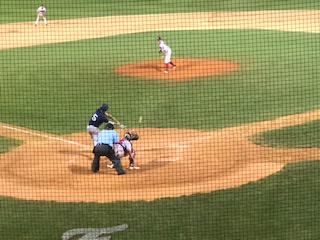 FARGO, N.D. (NewsDakota.com) – Each team used big innings to pull out wins Tuesday night as Valley City and Fargo split their East Region doubleheader.The Royals took the first game 12-4 while Fargo won game two 10-3.
GAME #1 – Valley City 12, Fargo 4
In the opener, Avery Bennefeld's two run triple highlighted a seven run seventh inning for the Royals. With one out, seven batters reached base safely on one error, a walk and five hits. Also in the big inning, Corey Nelson had an rbi single, Alex Thornton had an rbi single, and Riley Gerhardt drove in a run on a sacrifice fly.
Thornton had three hits and drove in two for the Royals. Jacob Johnson, Mitchel Taylor and Corey Nelson all had two hits and scored twice, Nelson also had two rbi.
Nelson got the win in relief of Jacob Johnson. He allowed three hits and one earned run in four innings. He walked four and fanned two.
GAME #2 – Fargo 10,Valley City 3
Fargo scored eight runs in the eighth inning for win the night cap. Dylan Tostenson's two run single highlighted an inning that saw three hits, three walks and three hit batters.
Valley City jumped out to a 3-0 lead after two inning. Mitchel Taylor drove in Grady Karges with a single in the first and Riley Gerhardt drew a bases loaded walk for another rbi.
Karges scored Avery Bennefeld with a double in the second, but Valley City would get only two more hits after that.
Karges had two of the five hits for the Royals. Jacob Johnson, Taylor and Gerhardt had the other three.
Valley City is now 15-4 overall and 10-1 in the East Region. Fargo is 7-14 overall and 5-5 in the region.
Valley City will host Devils Lake Thursday for a doubleheader beginning at 5:30. Game one will be on 1490 AM/96.3 FM KOVC and video streamed live at newsdakota.com. Coverage begins at 5:15pm