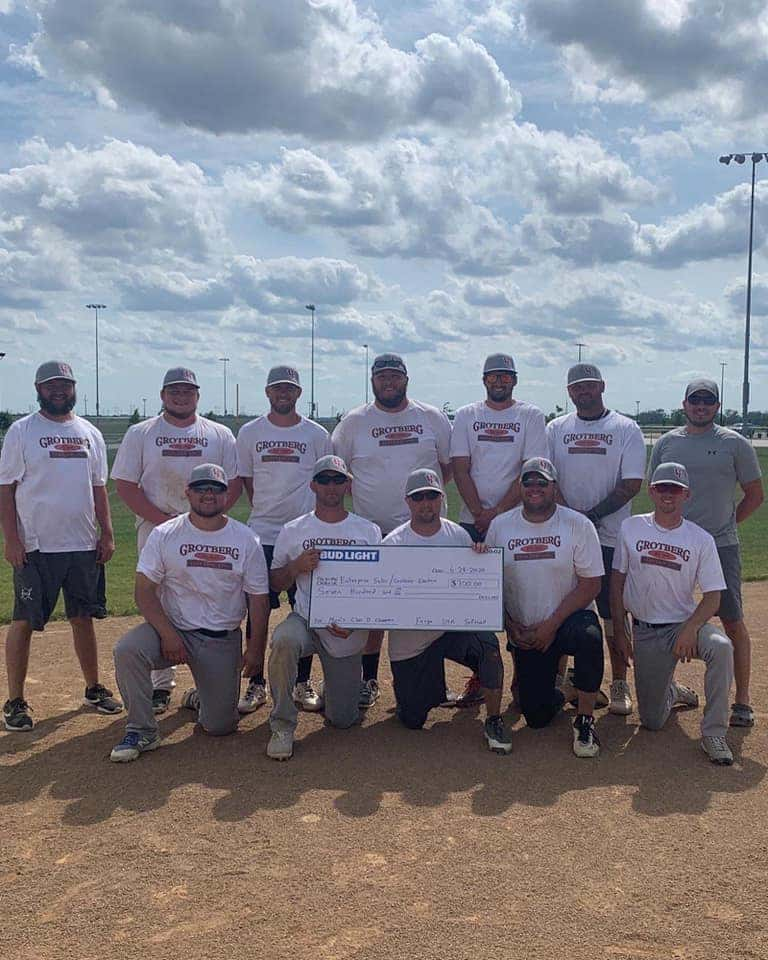 Back Row (L-R) – Leonard Kjelland, Nate Rodriquez, Brady Anderson, Tom Houdek, Cody Nelson-Olstad,
Jordyn Heck, Brian Klevgaard, Front Row (L-R) – Beau Brunsvold, Josh Lagein, Brandon Nadeau, Trevor Justesen, Brian Fike
Grotberg Electric/Enterprise Sales of Valley City won the Class D division of the Fargo Classic/Michelob Golden men's softball tournament this past weekend. Grotberg/Enterprise went 5-1 in the double-elimination tournament.
In their first game Saturday, Grotberg/Enterprise faced DMVW out of Fargo, who finished 3 rd in last year's Fargo Classic, 11-4. Grotberg/Enterprise then defeated Rack City from Blaine, Minnesota 19-8 on a three-run walk-off home run by Tom Houdek. Jordyn Heck, Nate Rodriguez, and Beau Brunsvold also homered in the game.
In their third game Saturday, the team defeated 2019 class D McQuade champions, MBI of Devils
Lake, 20-10. Heck went 5-5 with three doubles and Branden Nadeau was 3-4 with two doubles against MBI.
On Sunday, Grotberg/Enterprise faced Anarchy from Marshall, Minnesota in the undefeated semi-final game and overcame a 17-run inning by Anarchy to win 36-33. Nate Rodriguez went 6-6 with five runs scored in the game and Trevor Justesen was 5-6 with three runs scored. Grotberg/Enterprise would face Anarchy again in the championship.
In the first championship game, Anarchy defeated Grotberg/Enterpris 24-14. Brian Fike went 3-3 with two doubles in the game. In the second championship game, Grotberg/Enterprise came back to defeat Anarchy 19-9 to take the title on a walk-off home run by Cody Nelson-Olstad. Josh Lagein hit a 3-run home run as part of a 9-run 4 th inning, and Brady Anderson and
Rodriguez also hit home runs in the title game.
Jordyn Heck led the team in hitting for the tournament batting .808 including three home runs and eight doubles. Nadeau batted .667, Brunsvold hit .720 with 4 home runs, Rodriquez batted .620 with 3 home runs, and Houdek added 3 home runs in the tournament.
Grotberg/Enterprise is also sponsored by Valley City businesses Bridge City Dentistry, Smith Lumber, and Dakota Silver. One of the biggest softball tournaments in the Midwest, the Fargo Classic softball tournament D division included teams and players from North Dakota, South Dakota, Minnesota, Iowa, and Wisconsin.