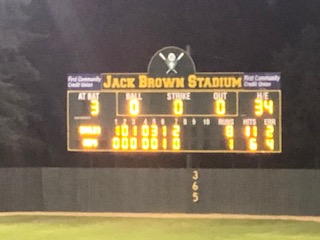 JAMESTOWN, N.D. (NewsDakota.com) – Jamestown had lost two, two run games to the Bismarck Reps during the season, Thursday night, they got their revenge with a 8-1 win over the top seeded Reps in the winners bracket of the the West Region Senior Babe Ruth Baseball Tournament.
The Eagles spread out the damage getting at least one run in five innings and at least one hit in six.  All nine starters had at least on hit. Connor Hoyt and Mason Lunzman each had two. Max Anderson drove in three runs. One on a sacrifice fly in the first and two on a double in the three run fifth. He would score the third run of that inning on Chris Erickson's single.
Connor Hoyt was on target on the mound. He allowed six hits and one unearned run in seven innings. He did not walk a batter and struck out 1. He threw only 68 pitches and mostly strikes. He got the Reps to to get themselves out. He had eight ground ball outs, and seven infield pop outs. The run came in in the sixth with Jamestown up 6-0. Carter Klipfel tripled to start the inning. Then third baseman Chris Erickson wanted to appeal that Klipfel missed first. When he threw it, it got by first basemen Max Anderson and Klipfel came in to score.
With the win, the Eagles are now 23-5 overall and will be playing in the title game Friday night at Jack Brown Stadium. The Bismarck Caps and Reps will meet Friday at 5pm to see who will take on the Eagles. The title game can be heard on Jamestown 107.1 and newsdakota.com beginning withe pregame show at 7:15pm.
Thursday's Scores:
Bismarck Caps 2, Mandan 1
Minot 20, Dickinson 10
Bismarck Caps 4, Minot 3
Jamestown 8, Bismarck Reps 1
Friday Schedule
5:00pm –  Bismarck Caps vs. Bismarck Reps (Loser is #3 Seed from the West Region Minot is #4)
7:30pm  – Jamestown vs. Caps/Reps Winner – Championship
if a second chapmionship game is needed, that will be played on Saturday at 1:00pm