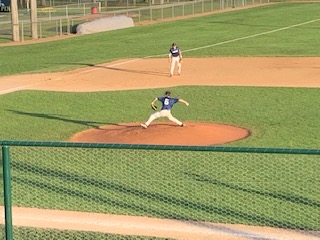 JAMESTOWN, N.D. (NewsDakota.com) – Jamestown defeated the Bismarck Capitals 2-1 in a State Qualifying game in walk-off fashion when Tommy Falk lined a single to center field that brought in Jeremy Williams from third with two out in the bottom of the eighth inning.
Williams also scored Jamestown's first run when Max Anderson tripled him home in the bottom of the first.
Schempp went six innings allowing just one run on only four hits and struck out seven. Mason Lunzman pitched the seventh and eighth innings and picked up the win, He allowed only one hit and had three strike outs. Lunzman has yet to give up a run this season as he stretched his scoreless streak to 17 innings.
The Eagles, the #2 seed, improve to 22-5 and will play the Bismarck Reps, the #1 seed, in the winners bracket at 7:45pm Thursday night at Jack Brown Stadium. Both teams are 2-0 in the tourney.
Listen to coverage on Jamestown 107.1FM and newsdakota.com
RESULTS FROM WEDNESDAY
Mandan 13, Bismarck Senators 7
Dickinson 4, Williston 3
Bismarck Reps 11, Minot 6 – State Qualifier
Jamestown 2, Bismarck Caps 1 F/8 – State Qualifier
SCHEDULE FOR THURSDAY
12:00pm – Mandan vs. Bismarck Caps – State Qualifier
25 mins after – Minot vs. Dickinson – State Qualifier
5:00pm – Mandan/Caps winner vs. Minto/Dickinson winner
25 mins after – Bismarck Reps vs. Jamestown