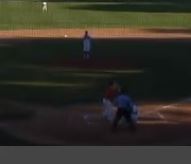 FARGO, N.D. (NewsDakota.com) The West Fargo Vets had six hits in the game and three of them barely got by the pitchers mound and two of their pitchers combined on a three hitter as the Vets upset the second seed Valley City Royals 2-0 in the winners bracket of the East Divisional Sr. Babe Ruth Baseball Tournament.
In the fourth inning, with the game tied at 0 and West Fargo was looking for its first base runner, Casey Reber led off the inning with an infield single. Cullen Pellet was trying to bunt him over, but when Jacob Johnson fielded the ball he slipped on the infield grass Pellett reached safely. The next batter Matt Heupel tried to the same thing and pushed it past pitcher Mitchel Taylor and reached for another bunt single. Mason Hoff would ground into a 6-4-3 double play on the very next pitch, but Reber came in to score to make it 1-0.
Valley City had its best scoring chance in the fifth when the loaded the bases with two out.  Mitchel Taylor led off the inning with a single, that was the first hit for the Royals. With Riley Gerhardt at the plate, courtesy runner Tate Sufficool was caught stealing. Gerhardt would then single to left center. Following a line out by Alex Thornton, Braxton Jorissen and Corey Nelson both walked to load the bases. Cullen Pellett came in to relieve starter Matt Heupel and retired Avery Bennefeld on a flyball to left.
West Fargo got an insurance run in the seventh when Kole Menz opened the inning with a triple, then scored on Max Burkhardt's bunt single. With infield drawn in, Burkhardt's bunt was fielded by first basemen Easton Hesch, but noone was behind him to cover the base and Burkhardt reached while Menz scored to make it 2-0.
Heupel pitched 4 2/3 innings of two hit shutout ball for the win. He walked three and struckout five. Pellett pitched the last 2 1/3 innings.He allowed one hit with a walk and two strike outs for the save.
A night after committing five errors, the Royals went errorless. Head Coach Chase Carpenter says there are three phases of the game you want to do well in – pitching, fielding, and hitting. In this game, Carpenter says getting two out of three was bad.
Mitchel Taylor, who threw three innings all season due to some arm issues, went 6 1/3 innings. He allowed six hits, two earned runs with three walks and six strike outs. Carpenter says that was the Mitchel Taylor of old.
With the loss, Valley City falls to 21-11. The will face Devils Lake today at 1pm in a lose rout game. The Storm slipped past Casselton 2-1 in eight innings. West Fargo, who qualified for the state tournament, improves to 23-13. They will take on the Fargo Jets in a winners bracket game.
The Royals and Storm game can be heard on AM 1490/96.3 FM KOVC and video streamed live at newsdakota.com beginning at 12:45pm.
RESULTS FROM WEDNESDAY 7/29/20
Devils Lake 2, Casselton 1 F/8
Fargo Bombers 11, Kindred 1 F/5
Fargo Jets 6, West Fargo Aces 5
West Fargo Vets 2, Valley City 0
SCHEDULE FOR THURSDAY 7/30/20
10:00am – Fargo Bombers vs. West Fargo Aces (loser out)
1:00pm – Devils Lake vs. Valley City (loser out)
4:00pm – Fargo Vets vs. Fargo Jets
7:00pm – Bombers/Aces Winner vs. DL/VC Winner