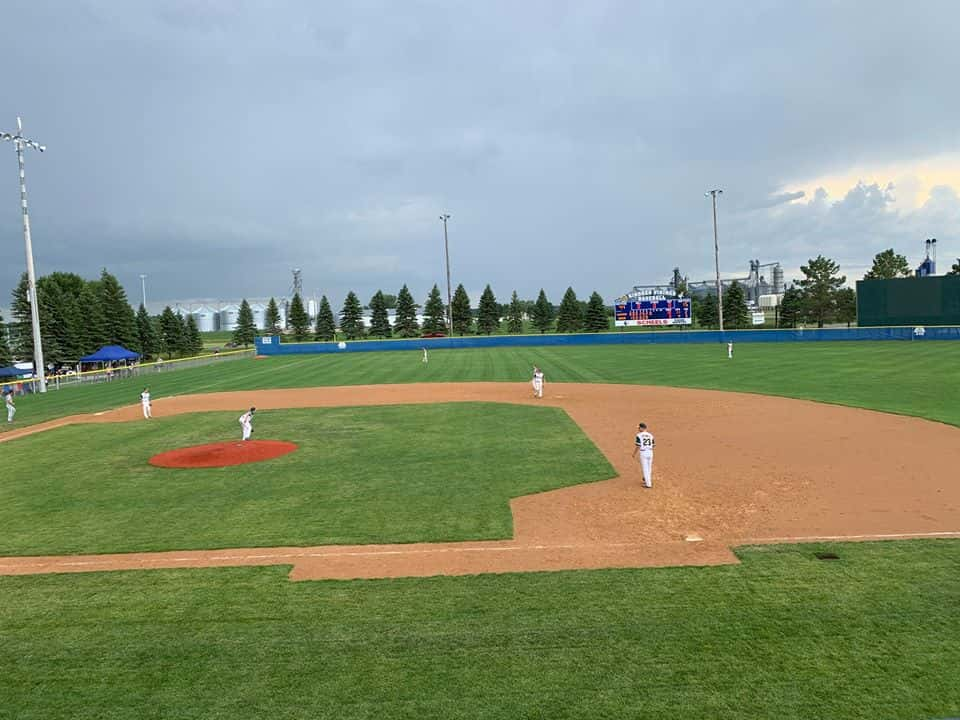 KINDRED, N.D. (Newsdakota.com) – LaMoure Babe Ruth ran away with a 2nd round victory over Surrey 13-4.
Connor Johnson and Corban Potts, LaMoure's 2 and 3 hitters, put together a heavy assault towards the top of the lineup. Johnson collected his third and fourth hits of the tournament and drove in four runs while Potts drove in two more and smashed the tournament's first home run on a solo shot over the left field fence.
While Johnson and Potts led the charge, the rest of the lineup did its part. The team scored in five of their six innings and put up multiple runs in four of the six. Each guy in the lineup reached base successfully at least once. Lead off hitter Tate Mart excelled at reaching base by walking three times and popping a 5th inning double. Mart also scored all four times he was on base.
The offensive explosion made up for a rough day in the field. Combined LaMoure committed five errors that led to a pair of runs. Pitchers Anthony Hanson and Johnson limited the damage to just four runs. Hanson picked up the win pitching into the sixth inning allowing two earned (two unearned runs) runs and notching five strikeouts to cap off the win.
Despite the five errors LaMoure still had a chance to 10-run Surrey in the 6th inning. The A's had the winning run at third in the 6th inning but failed to score. In the end, it didn't matter as Johnson would close the door in the 7th inning 1-2-3.
Surrey's day was highlighted by Keloa Munos and Colton Feller picking up an RBI each.
With the 13-4 win over Surrey, LaMoure advances in the winner's bracket to take on Langdon Sunday evening at 5:00. The winner of that game will get a significant advantage headed into Championship Monday. The victors will get two chances Monday and Tuesday to win one game and clinch a state championship.
Coverage of LaMoure VS Langdon can be heard again on Q101.1 FM and newsdakota.com starting around 4:50.