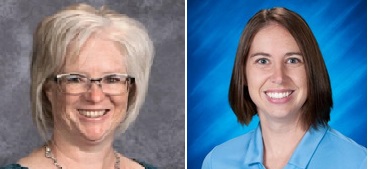 L to R: Kimberly Carpenter & Jessica Gregerson
JAMESTOWN, N.D. (NewsDakota.com) – Both a Jamestown & Valley City instructor were recognized by President Donald Trump the the White House for their excellence in Mathematics and Science Teaching (PAEMST).
Kimberly Carpenter is the Department Chair and teaches Algebra I, Mathematical Thinking & Design Lab and MTSS Math Flex Enrichment at the Jamestown High School. Jessica Gregerson is a mathematics teacher at Valley City Public Schools.
PAEMST are the nation's highest honors for teachers of science, technology, engineering, mathematics, and/or computer science. Established by Congress in 1983, this program authorizes the President to bestow up to 108 awards each year.
"Awardees serve as models for their colleagues, inspiration to their communities and leaders in the improvement of STEM education," the National Science Foundation states.
With this award, teachers will receive $10,000 from the National Science Foundation; a certificate signed by the President; a trip to Washington, D.C. to celebrate their accomplishments; and join a prestigious cadre of more than 5,000 teacher-alumni from across the nation.
"Kimberly Carpenter and Jessica Gregerson represent the most outstanding teachers America has to offer and serve as both a model and an inspiration to students and fellow teachers," the release states.
While teachers are in D.C., they will participate in professional development activities and network with fellow STEM educators from across the nation.
Visit paemst.org for more information.

Award Recipients