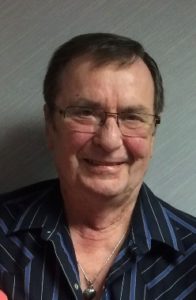 Larry Francis Hetland of Valley City, ND, passed away Friday, September 4, 2020, at Essentia Hospital in Fargo due to complications from a surgery.  A memorial service will be held at Memory Gardens Cemetery (Exit 296) near Valley City at 2:00 PM on Thursday, September 10.  Please bring a lawn chair and a mask as we attempt to follow CDC guidelines regarding COVID-19.  The service will be recorded and available for viewing along with his obituary at www.lerudschuldt.com
Larry was born in Buffalo, South Dakota, on September 27, 1941. He was the youngest son born to Edith and Fritz Hetland. Larry grew up on the Hetland family farm south of Scranton, North Dakota. He enlisted in the Navy following high school. He went to school to become a radiologic technologist in Bismarck, North Dakota, where he met his first wife, Charlotte Grossman. They married in 1963 and moved to Valley City, North Dakota. Together they had two children, Darren Hetland and Kristi Hetland Molina. In 1975, Larry married Melody Etzell, and together they had a daughter, Andrea Hetland.
Larry worked in the radiology department at Mercy Hospital from 1964 until he and Melody moved to Bowman, ND, from 1980 until 1989, when they returned to Valley City. Along with working full time as a radiologic technologist for his entire career, Larry volunteered for many years, both in Valley City and in Bowman, with the fire department, sheriff's department, and police department. At various times throughout his life he was also a professional photographer, an EMT, a county coroner, and a singer and guitar player in the band the Sundowners. He had many talents and enjoyed being very active.
Larry loved riding motorcycles, and he and Melody enjoyed taking long motorcycle trips together, spending time with their friends, playing card and board games, and spending time on the farm where he grew up.  Other interests of Larry's were hunting, collecting guns, wood working, playing guitars, and making people laugh.
Larry is survived by his son, Darren Hetland, San Antonio, TX; his daughter, Kristi (Dario) Molina, Gretna, NE; his daughter, Andrea Hetland, Valley City, ND; and his mother-in-law, Betty Etzell, Valley City, ND. He was preceded in death by his wife, Melody; his parents; and his siblings, Bud Hetland and Carole Olson. An online guestbook and tribute page can be found at www.lerudschuldt.com