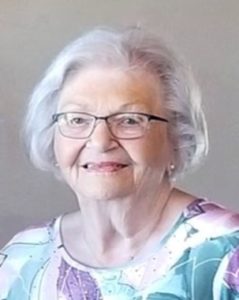 Marjorie Elaine Goheen was born March 27, 1926 to Ivan and Lillian (Hanson) Goheen on her grandparent's homestead, 2 ½ miles South of Ambrose, ND.  She attended grade school at Ambrose until June 1937, when the family moved to a farm at Russell, ND.  Marjorie graduated from Russell High School in 1943 and attended Minot State Teachers College for one year.  On October 17, 1944 Marjorie and Arvel Glinz were united in marriage and they lived on a farm near Russell.  In 1960, they purchased a farm near Jamestown, ND and moved with their family there.  In 1970, Arvel and Marjorie opened a Real Estate office in Jamestown and Marjorie was a licensed realtor for 25 years.  Arvel passed away on August 29, 2010.Marjorie enjoyed homemaking, counted cross stitch, reading, and making scrap books for her grandchildren.  She was a member of New Hope Free Lutheran Church and was a member of Ruth Circle.

Marjorie was a loving wife, mother and grandmother, whose great grandchildren made her life complete.

Her love is known and memory held dear by her surviving family, Son David (Bev Miedema) Glinz, Jamestown, ND; Daughters Kathryn (Bryan) Sundsbak, Rapid City, SD, and Nancy (Lyle) Williams, Jamestown, ND. Grandchildren, Julene (Brian) Steidl and Sasha (Tony) Minihan, Jamestown, ND; Marvel and (Joel) Vander Kooi, Thailand; Jamie (Rhianna) Sundsbak, Rochester, MN; Aron Williams, Amy (Jason) Waliser, Alan Williams, all Jamestown, ND; Anne (Don) Kainz, Fargo, ND; Chad Wiese, Denver, CO.

Great Grandchildren Dane (Chelsie) Kainz, Kyra (Lucas Ness) Kainz, Kyler, Connor and Anish Glinz, Lillian and Evan Sundsbak, Hunter Klipfel, Austin and Peyton Waliser, Kirsten, Daisy and Hezekiah Vander Kooi, Ryan, Leo, Felicity and Boone Williams, Dawson and Drake Williams.

Great Great Grandchildren Conner Kainz and Estelle and Isla Ness.

Brother Bill (Marilyn) Goheen, Minot, ND, Sister in law Penney Goheen Carson, Craig, AK, Brother in law Norman Glinz, Bottineau, ND and Sister in law Elaine Glinz, Bottineau, ND and many wonderful nieces and nephews.

Marjorie was preceded in death by her loving husband Arvel, Son Bruce Glinz, Daughter and Son in law Jane (John) Esper, Daughter in law Barbara Glinz, grandchildren Shaun and Cresta Glinz and Matthew Wiese, her parents, Brothers Jerry Goheen, Carrington, ND, Jim Goheen, The Dells, OR; Sisters in law Kaaren Goheen Bolger, Sebastopol, CA, Violet Glinz Welstad, Upham, ND, Sue (Wes) Goheen Buechler, Carrington, ND, and  Twilla Glinz, Bottineau, ND; Brothers in law Laurence Glinz, Mojave, CA, Willis Glinz, Newburg, ND, Willmer (Ruth) Glinz, Maxbass, ND and Lyle (Ione) Glinz, Westhope, ND.

Funeral Service: Thursday, September 10th at 1:00pm at New Hope Free Lutheran Church, Jamestown, ND. The service will be live streamed on the New Hope Free Lutheran Church facebook page. Masks are required. If you are not comfortable attending the service, the family understands and knows they are in your prayers.

Interment: Highland Home Cemetery, Jamestown, ND. Outdoor lunch will be served immediately after service and burial to follow.

Memorials: May be given in her memory to Prairie Grit Adaptive Sports, PO Box 969, Minot, ND  58702 and New Hope Free Lutheran Church, Jamestown, ND.03/

To send a flower arrangement to the family of Marjorie E. Glinz, please click here to visit our Sympathy Store.