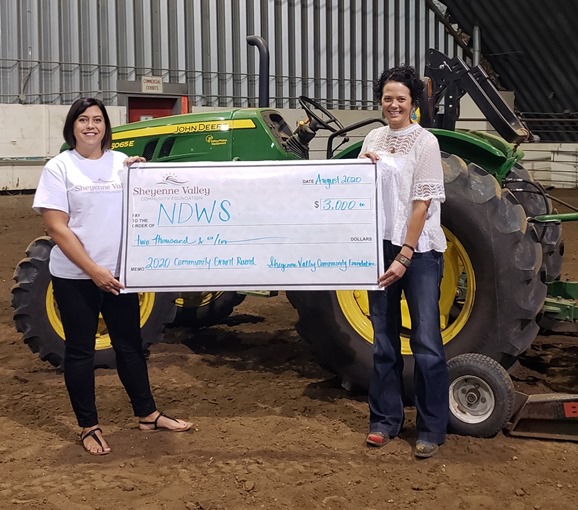 VALLEY CITY, N.D. (NewsDakota.com) – The following is  a news release by Andrea Nelson executive director of the Sheyenne Valley Community Foundation.
"The Sheyenne Valley Community Foundation is pleased to announce the recipients of our 2020 Community Grant Round. Thanks to the generosity of our community through our annual fundraising event last fall, we were able to award $24,700 to nine nonprofits in Barnes County. Nonprofit organizations were encouraged to participate by submitting an application for projects that impact our community through a competitive grant round with requests totaling just under $73,000 by 21 different organizations. The Sheyenne Valley Community Foundation Board of Directors made awards based on projects that address current or emerging community needs, create a deep and lasting positive impact, and demonstrates quality planning and management.
Sheyenne Valley Career and Technology Center $3,000 was awarded which will help transform a staff work room into a hands on learning center for students to include a residential stove, oven, washing machine, and dryer. This new learning station will create an opportunity for Ag. Students who complete a unit each year called Farm to Fork cook safely at the SVCTC. Health Careers students, who do a unit on nutrition, will have a space to prepare meals and foods they have been learning about and Transition/Work Placement students will utilize this new space to work on both self-care as well as employability skills.  "The Sheyenne Valley Area Career and Tech Center would like to sincerely thank the Sheyenne Valley Community Foundation for helping to provide funding for our kitchenette and laundry learning station project." Says Derrick Bopp, Director of SVCTC.
North Dakota Wintershow, $3,000 was awarded to purchase an arena groomer and replace the grounds of the indoor warm up area. Manager Tesa Klein says: "The new arena groomer has many horse associations and their members excited to come to events at the ND Wintershow. This improvement maintains a number of events throughout the year and brings visitors to our community which generates business and supports the local economy. Thank you to the Sheyenne Valley Community Foundation for offering the opportunity. "
Valley City Viper Hockey Club $2,000 was awarded the Valley City Hockey Club to update the heating and humidification system. "Thanks to the generosity of the SVCF, the Valley City Hockey Club is excited that after 20 years in our rink we are finally being able make upgrades to our facility that will make it more enjoyable for our spectators.  The new equipment will make watching games more comfortable." says Jason Manlove, President of VC Hockey Club.
The Sheyenne Valley Community Foundation is a nonprofit, charitable organization that brings together the financial resources of individuals, families, and businesses to support a wide variety of nonprofit organizations in Barnes, Ransom, and Griggs Counties. For more information on the Sheyenne Valley Community Foundation or ways to give, please visit us at 250 West Main St, Valley City or contact us at 701-490-1596 or www.valleycitynd.org/svcf ."

svcf grant awards