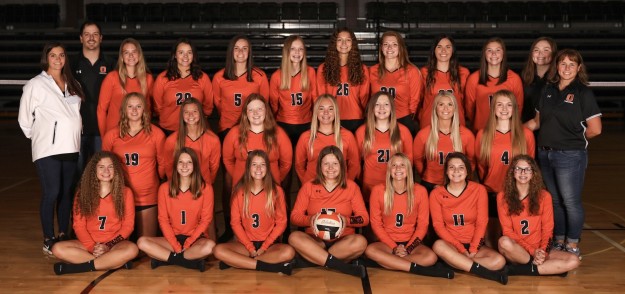 ELLENDALE, N.D. (NewsDakota.com) – The Oakes volleyball team continues to roll through the competition. Tuesday the Tornadoes swept Ellendale 25-15, 25-15, 25-18 to improve to 7-0 on the season. The Tornadoes have yet to lose a set this season.
Sadie Hansen led the way with 8 kills, 14 assists and nine digs. The defense was strong in this one for Oakes. As a team they had 53 digs. They also had 13 aces led by Abby Cox with five. Laikyn Roney had three while Emma Muggli and Aspen Hill had two each. Cox also had a double-double with 15 assists and 10 digs. Muggli had a team high 10 kills. Hill had 11 digs and Grace Day added 10 digs. Roney chipped in five kills and eight digs.
The Tornadoes, ranked number 3 in the latest Class B volleyball poll, will host the South Border Mustangs on Thursday. You can hear that match on 1220 KDDR/95.9 FM The Tornadoe.