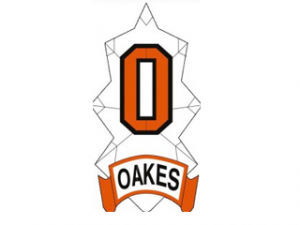 OAKES, N.D (NewsDakota.com) – Oakes improves to 9-0 on the season after a 3-1 (25-22, 25-13, 16-25, 25-17) win over Kindred on Monday night in volleyball action in Oakes.
Sadie Hansen had another double-double with a team high 11 kills and 13 digs. As a team the Tornadoes had digs defensively. Aspen Hill had a team high 14 digs to lead the defense. Abby Cox had 13 along with six kills. Brynn Dethlefsen had 11 digs and Grace Day chipped in ten and four kills.
Oakes had ten services aces led by Hansen's five. Hill had two and Laikyn Roney added two.
The third ranked Tornadoes are back in action Thursday when they host Barnes County North. The match begins at 7:30. Coverage begins at 7:15. You can hear that game on 1220AM/ 95.9 FM KDDR, The Tornado and on newsdakota.com