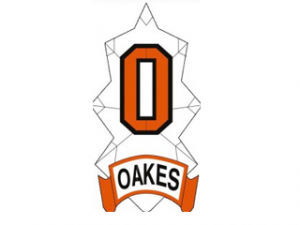 LINTON, N.D. (NewsDakota.com) – It was a matchup of unbeaten teams and the number 1 and number 2 teams in Class B volleyball Thursday night at the Linton Gymnasium.
In the end the top ranked Lions of Linton/HMB got the best of Oakes with a straight set win 25-15, 25-20, 25-21.
Teegan Scherr led the Lions with 13 kills and three aces. Shaylee Bosch had six kills while Emily Kelsch and Kim Gefroh had four each. Callie Hase had three aces and Gracie Schumacher had 24 assists and three aces as Linton/HMB had eleven total aces.
Sadie Hanson led the second ranked Tornadoess with a double-double, 14 assists, 20 digs and 8 kills. Abby Cox had six kills, nine digs and eight assists. Emma Muggli chipped in a team high nine kills and Laikyn Roney had four kills, four blocks and five digs. Brynn Dethlefsen had 16 digs. Lily Thorpe and Grace Day each had nine digs and two blocks.
Oakes falls to 13-1 overall and 7-1 in Region 3. They will be at Medina-Pingree-Buchanan Tuesday night for another Region 3 matchup. You can hear that game on 1229AM/95.9 FM KDDR The Tornado beginning at 7:15 with the first serve at 7:30. Linton/HMB improves to 15-0 overall and 8-0 in the region.