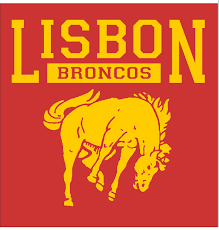 Lisbon, N.D (NewsDakota.com) – Despite not being able to play for the last two weeks because of Covid-19 concerns, the Broncos football team secured the #2 seed for this years playoffs Saturday.  This was big news for the Broncos playoff chances.  The top two seeds have homefield advantage until the Prep Bowl at the Fargodome as long as they continue to win.
The Broncos will open the playoffs on Saturday Oct. 24th against Harvey/Wells County in Lisbon.  No definite time has been given yet.  It is expected to be an afternoon game.
Here are the top 4 seeds in class A:  #1 Langdon Area/Edmore/Munich, #2 Lisbon, #3 Velva, #4 Shilo Christian .