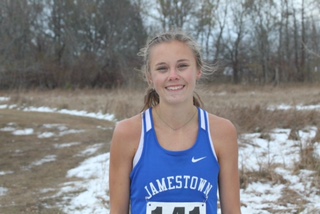 JAMESTOWN, N.D. (NewsDakota.com) – It is called the State Cross Country Meet. But recently it has become known as the Megan Ford Invite. The Senior from Jamestown High school wrapped up her high school cross country career with a third straight state cross country championship.
Ford finished in a time of 17 minutes, 58.83 seconds – 40 seconds ahead of second place finisher Jaelyn Ogle of Watford City. It was the first time a three-peat was achieved in Class A Girls Cross Country since Tarin Lachowitzer won three straight from 2009-2011 with Fargo South and Fargo Davies High School.
Williston won the team title, beating out Bismarck by three points to win the program's first ever girls Class A team title.
How Jamestown runners fared:
Megan Ford                      1              17:58.83
Julia Skari                       38            20:48.90
Maddy Orr                      59             21:18.71
Brooklyn Nygaard         65             21:24.58
Ellie Krueger                   85            21:54.01
Bernadette Belzer         (96)          22:11.45
Madison Rick                (114)         23:12.55
Greta Goven was the top finisher for the Valley City Hi-Liners. She was 22nd overall and just missed the top 20 by just under nine seconds. She finished with a time of 20:11.77.
On the boys side, Sean Korsmo of Bismarck won his second title in three years. The senior finished in a time of 15 minutes, 27.50 seconds. Jacob Knodle of West Fargo Sheyenne was second, fibe seconds behind Korsmo.
Bismarck Century won the team title with 75 points, 14 ahead of second place Dickinson.
How Jamestown boys runners fared:
Ben Anteau                          3                  15:33.66
Gavin Haut                          6                  16:02.59
Chandler Rott                     19                16:32.56
Cullen Flieth                       49                17:30.09
Kade Schumacher             53                 17:38.57
Michah Hoke                     (56)              17:41.57
Sam Anteau                       (101)             19:30.11
Corbin Golovanoff was the top Hi-Liner with a time of 18:11.64.
Below is how the Valley City Boys and Girls finished:
Boys:
Corbin Golovanoff                             73                18:11.64
Keegan Couture                                 99                19:25.34
Daniel Wintch                                   110               19:53.86
Luke Plagens                                     118               20:24.40
Trevor Fetsch                                    119               20:30.10
Owen Plagens                                  (124)             21:20.52
Girls:
Greta Goven                                       22              20:11.77
Avery Murray                                     57              21:17.20
Reagan Berg                                       81              21:45.90
Stephanie Hoffarth                           92              22:02.62
Olivia Slyter                                       101             22:30.60
 Tricia Pfennig                                 (108)           22:47.82
Carly Goven                                     (116)            23:13.91