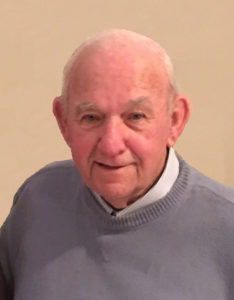 James "Jim" Henry Flynn was born on August 3, 1929 in Valley City, North Dakota the son of Charles and Leah (Karn) Flynn.  He attended and graduated from school in Eckelson, ND and attended Ellendale Normal and Industrial School, Ellendale, ND.  Jim farmed and raised cattle with his father and brothers on the family farm near Eckelson.  He served in the United States Army for two years (1951-1953) during the Korean War at Fort Richardson, Alaska. After his discharge, he returned to the farm. He married Marilyn Caufield on September 16, 1954 in Jamestown, ND.  Besides farming and ranching, he enjoyed hauling potatoes and Christmas trees.  Upon his retirement from farming he worked for the North Dakota Highway Department of Transportation driving truck.
Jim was united in marriage to Patty Loven on July 18, 1998 in Valley City, ND.
He was a life member of the Knights of Columbus, American Legion, VFW and the Elks.
Jim is survived by his wife, Patty; three daughters Kate Freimanis, Treasure Island, FL, Mary Jo (Rich) Sieg, Fargo, ND, Tricia (David) Massart, Elm Grove, WI; two sons Mike (Barb), Fargo, ND and Tim (Heidi), Arvada, CO; and one stepdaughter Kristi (Todd) Kohler, Valley City, ND and two stepsons, Kent (Rochelle) Loven, Aliso Viejo, CA and Keith (Leslie) Loven, Hendersonville, TN; 23 grandchildren and 23 great-grandchildren.
He was preceded in death by his son John, his parents and brothers Charles and Donald, and great grandsons Kullen Miller and Rex Flynn.  Jim died at the age of 91, on Saturday, October 24, 2020 at Mercy Hospital, Valley City, ND.
We will all miss his amazing smile, sense of humor, card playing, his enjoyment of chocolate and all the family times with the kids and grandkids.  His love of family and farming continued throughout his life.
The funeral service will be at 2 pm, Wednesday, October 28, 2020 at Our Savior's Lutheran Church, Valley City, with visitation from 11 am until the time of the service at the church.  Following the service burial will take place at Sacred Heart Cemetery, Sanborn, ND.  The funeral service will be recorded and viewable at www.oliver-nathanchapel.com
Funeral arrangements have been entrusted to the Oliver-Nathan Funeral Chapel, Valley City.  An online guest book is available at www.oliver-nathanchapel.com