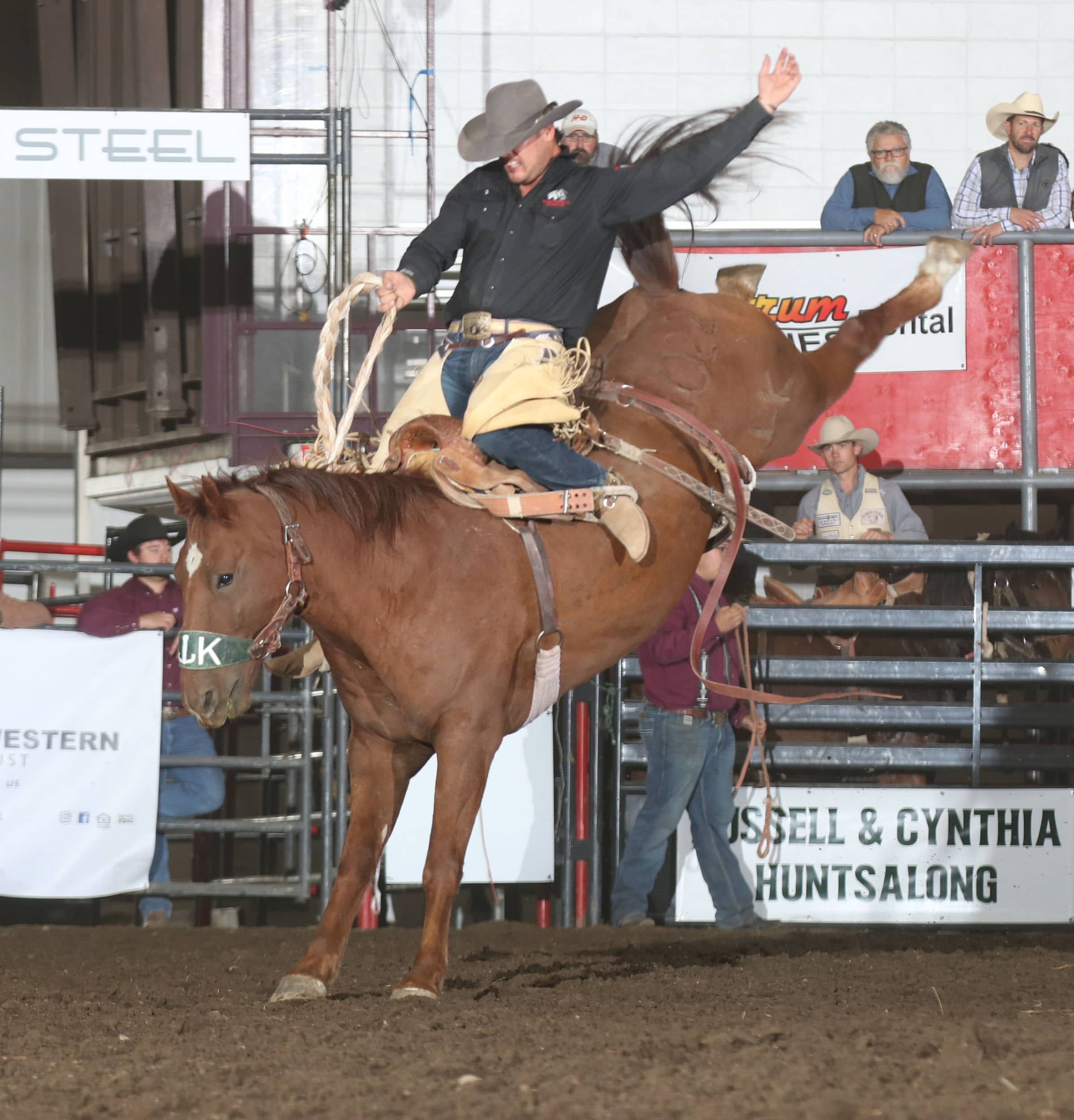 By Ruth Nicolaus
MINOT, N.D. (NewsDakota.com) – Six animals were recognized in Minot, N.D. at the Badlands Circuit Finals Rodeo two weeks ago for their prowess in the arena.
Two animals from each event: the bareback riding, saddle bronc riding, and bull riding, were selected for the awards: one for the circuit finals, and one for the year.
In the bareback riding, the Bareback Horse of the Year went to Fettig Pro Rodeo's Colorado Bulldog. The Bareback Horse of the Finals was won by Fettig's Adam's Pet.
In the saddle bronc riding, the Saddle Bronc of the Year was awarded to Korkow Rodeo's Onion Ring, and the Saddle Bronc of the Finals went to Championship Rodeo's Stacked Deck.
In the bull riding, the Bull of the Year was given to The Preacher, owned by Bailey Pro Rodeo. The Bull of the Finals went to Rock N Roll Fantasy, owned by Sutton Pro Rodeo.
Alicia Fettig, owner of Fettig Pro Rodeo, located in Killdeer, N.D., said that Adam's Pet, a mare, is "like a badass sweetheart. She's got the heart and she loves to buck. She would buck without a flank." Two cowboys at Rodeo Houston earlier this year won rounds on her (Jesse Pope and Leighton Berry.) The mare is five years old, a dark bay with a white stripe on her face.
Fettig also owned the second bareback award-winning horse.
Colorado Bulldog is a nine-year-old buckskin stallion out of a famous bucking horse, Painted Valley, owned by Kristen Vold of Vold Rodeo.
The stud "is a sweetheart," Fettig said, "a good, well-behaved stud, which is hard to find. He's more like the Mufasa in Lion King, He's in charge, he's the alpha, but he's a laidback alpha."
Colorado Bulldog, for the fourth time, has been selected to buck at the Wrangler National Finals Rodeo (WNFR) in December and is maturing, Fettig said. "He bucks better with time."
Championship Rodeo, located in Brockway, Montana and owned by Sparky Dreesen, took home an award with their saddle bronc horse Stacked Deck.
The eight-year-old sorrel gelding has been used as a bareback horse, but Dreesen chose to move him to the saddle bronc riding earlier this year.
The horse loves people, Dreesen said. "He comes up and wants to be petted. He's gentle as can be."
Stacked Deck will buck at his first WNFR this year. Dreesen said two-time world champion saddle bronc rider Zeke Thurston has won $20,000 on the horse this year alone.
The bull named The Preacher is the Badlands Bull of the Year.
Purchased by Bailey Pro Rodeo in January, he's bucked about a dozen times and has carried two bull riders to victories.
He's a four-year-old, said Shane Gunderson, co-owner of Bailey Pro Rodeo, and he's done well for his youth. "For being that young and not fully mature, he's come right back after being ridden and thrown (bull riders) off. That bull has a big future in front of him."
The 2020 Badlands Circuit Finals Rodeo took place in Minot October 9-11, where champions were crowned. More information can be found at www.prorodeo.com.
Circuit