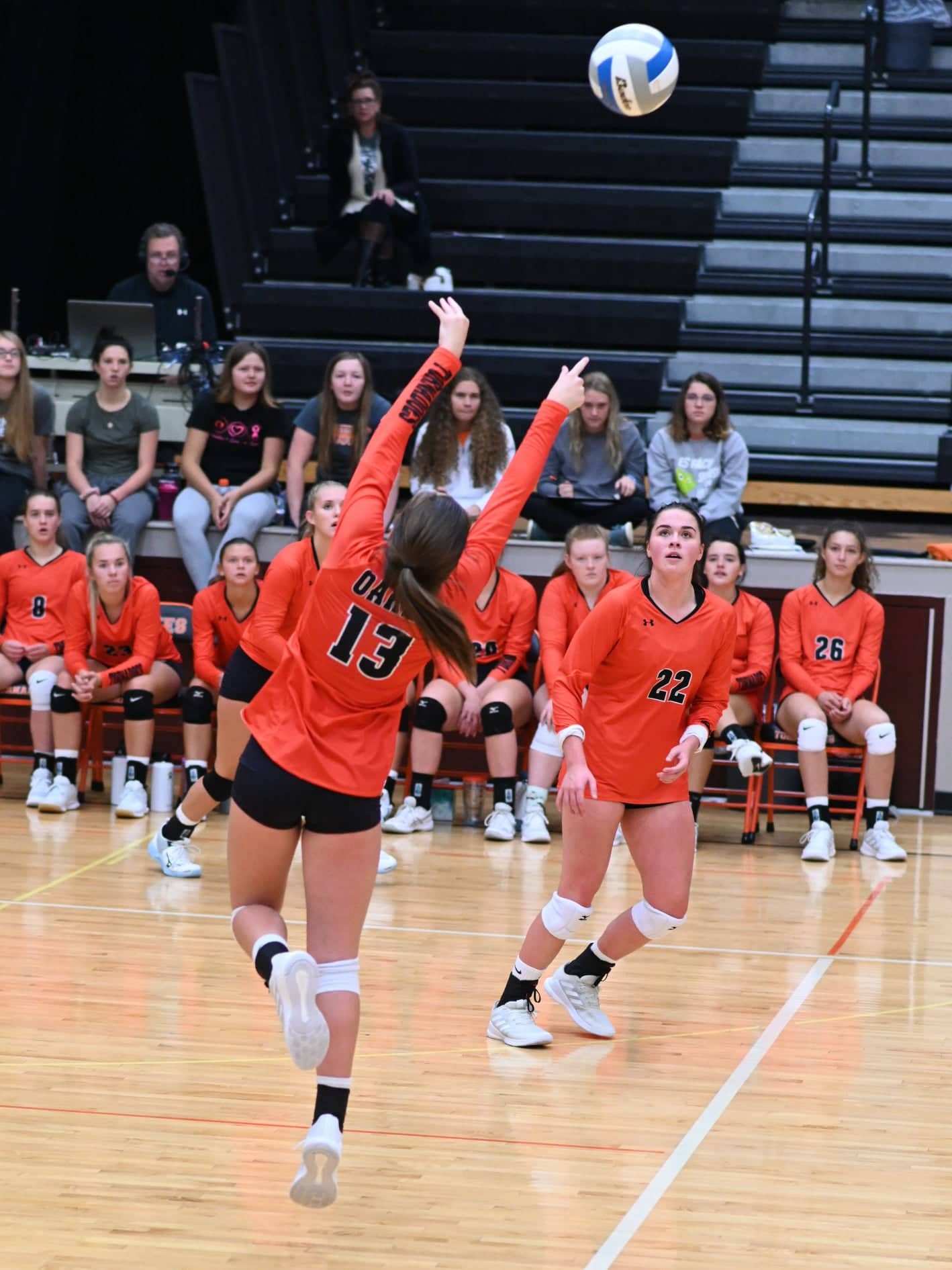 OAKES, N.D (NewsDakota.com) – It only took Oakes about 45 minutes to advance to the District 5 volleyball tournament championship match as the Tornadoes swept Ellendale 25-10, 25-13, 25-15 Friday night in the semifinals.
After being tied at 1, 2 and 3 in the first set, Oakes scored eight straight points and ended the set on a 22-7 run to pull away for the 25-10 win.
Set two and three, Oakes jumped out early leading 9-1 in both sets. In both sets, Ellendale would make mini runs of 3 or 4 points, but each run was answered with 5 or 6 point run by Oakes. The Tornadoes to set two 25-13 and set three 25-15.
Sadie Hansen again filled the stat sheet with seven kills, 19 assists, nine digs and five service aces. Abby Cox had seven kills, eight assists and four digs. Laikyn Roney had four kills, eight digs and three blocks. Emma Muggli led the offense with eight kills and Aspen Hill anchored the defense with ten digs.
Ellendale was led by Abigail Molan with six kills. Morgan Fische had three and Jada Henningsen had six assists. Fischer also had two blocks, and four aces, which came in a row in the second set.
Oakes improves to 16-1 overall and will take on Carrington for a third straight year in the District 5 championship match. Ellendale falls to 5-11 and will host Edgeley-Kulm-Montpelier in a region qualifying match on Monday.
The Oakes-Carrington match can ne heard on 1220 KDDR/95.9 FM The Tornado and 1600AM/100.1 FM KDAK The Cardinal starting at 6:45 with the pregame and first serve at 7pm.
SCHEDULE FOR MONDAY, NOV. 2, 2020:
All matches at 7pm
Region 3 qualifier – Griggs/Midkota @ Lamoure/LM (Q101)
Region 3 qualifier – EKM @ Ellendale (Thunder 98.3)
District 5 championship – Carrington @ No. 3 Oakes (KDDR and KDAK)