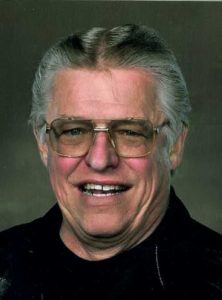 Gary D. Schlagel, 72, Valley City, ND passed away at Essentia Health in Fargo, ND on November 2, 2020.   A funeral service with military honors will be held for Gary at 10:30 AM on Saturday, November 7, 2020 at Our Savior's Lutheran Church, Valley City.  He will be buried in the old Holy Trinity Cemetery, Fingal, ND.  Visitation will be from 5:00 PM until 7:00 PM on Friday, November 6 at the Lerud Mathias Funeral Home.  Regulations and guidelines set concerning COVID 19 will be followed, please wear your mask and practice social distancing.
Gary Dean Schlagel was born in Fargo, ND on April 28, 1948 to Frank J. and Mary Ellen (Bowe) Schlagel.  He grew up in the Fingal, ND area and attended school in Lucca through the 8th grade.  He graduated from Fingal High School.  Gary enlisted with the US Navy on August 23, 1966 and served his country during the Vietnam Era.  He was honorably discharged in 1970.  When he returned to the states, he decided to continue his education and attended NDSCS in Wahpeton, ND where he earned a degree in civil engineering.  In 1975 he started working at area elevators as the manager before his career began with the ND DOT.  He retired from the DOT in March of 2014.
Most know of Gary's service to the veterans in our area.  He was a member of the VFW, AMVETS, and the American Legion.  He held various offices in a number of veteran organizations.  Gary was an integral part of the funeral honors color guard.  He belonged to the Eagles Club and was an avid deer hunter.
The softer side of Gary was a holiday tradition in many area households.  He was one of Santa's helpers and relayed thousands of Christmas wish lists to the big guy himself.
Gary is survived by his son, Scott (Shelly); his brother, Darrell (Karla); his grandchildren; a nephew, Cody; and a dear friend, Myrna.  He was preceded in death by his grandparents; his parents; his son, Todd; and a granddaughter.
An online guestbook and tribute page for Gary can be found on the funeral home website at www.lerudschuldt.com.  The Lerud Mathias Funeral Home is assisting the family with arrangements.