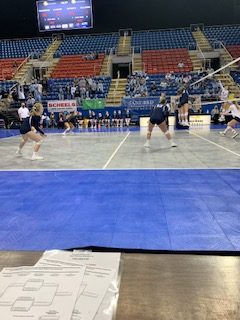 FARGO,N.D. (NewsDakota.com) – Valley City opened up the 2020 State Volleyball Tournament the same way they opened up th 2019 state tourney, versus Bismarck Century. And the Patriots showed why they are the number one team in the state and undefeated. Century won in straight sets 25-15, 25-9, 25-18 in the quarterfinals at the Fargodome.
The Hi-Liners led only once in the match, that was 3-2 in the first set. But Century would go on a 13-5 run to take a 15-8 lead and never looked back. The Hi-Liners got to within five at 15-10, but Century went on a 7-1 run to open up a 22-11 lead and ended up with 25-15.
The second set was all Century as the West Region Champs jumped out to a 12-2 lead, which included a 7-0 run. After a timeout, that lead would expand to 22-5, which included an 8-0 run before the Patriots won the set 25-9.
Set three was a bit more competitive. Century would jump out to a 6-1 run and have that five point lead seven more times at 7-2, 8-3, 9-4, 14-9, 15-10,17-12 and 20-15 as the Hi-Liners were able to keep within striking distance. With the score 18-15, the Patriots would score five straight points to take a 23-15 lead. Valley City got back three points to make it 23-18. But Century would score the last two for the 25-18 win and the match.
Valley City was led by Lexi Leroux and Sam Hatcher with five kills each. Dylann Diegel had a double-double with 13 assists and 15 digs. Jocey Kriewald led the defense with 16 digs. Hatcher had 13 digs. Leroux had eight and Rachel Beierle had seven. Jadyn Dieterle and Peyton Pederson each had two blocks for Valley City.
Century, now 21-0, had two players with double-doubles. Juila Fitterer had ten kills and 17 digs. Dani Clarke had 21 assists and 12 digs. Abby Fletcher just missed a double-double with 19 assists and 9 digs. Megan Klien led the offense with 11 kills and Logan Nissley had 10.Libero Jocelyn Julson had 17 digs and Riley Lembke added 16.
Valley City, now 14-13 on the season will play Mandan in the consolation semifinals at 10am Friday morning. The Braves lost a tough five setter to Fargo Davies. Davies and Century will play in the semifinals in a rematch of the 2019 state final won by Davies which ended Century's run of four straight state titles.
The Valley City-Mandan match can be heard on 1490AM/96.3 FM KOVC beginning with the pregame at 9:45 and the first serve at 10am.