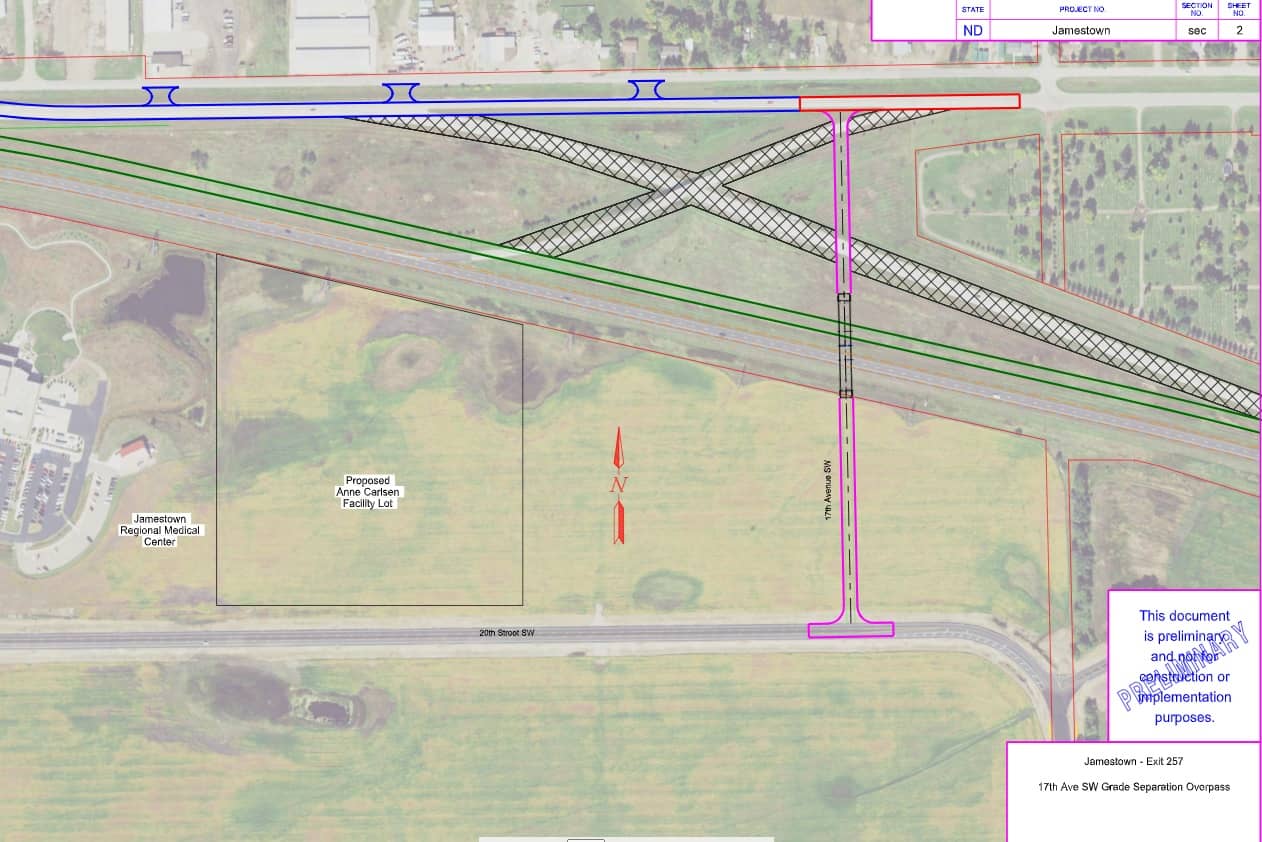 A preliminary design of what a future Exit 257 project could look like. Photo: City of Jamestown
JAMESTOWN, N.D. (NewsDakota.com) – The Jamestown Public Works Committee heard the latest information regarding numerous projects in Jamestown.
City Engineer Travis Dillman provided the details on the proposed 2021 Watermain Improvement Project, with a focus on 17th Street SW.
Another portion of the project is a river crossing in the Southeast.
Later, Dillman shared information on the State Transportation Improvement Projects (STIP) List. Dillman says this list will be due by the end of the year and indicates some potential projects the city could work towards in the future.
Some of these projects include minor rehabilitation work along Highway 20 from 1st Avenue N to 12th Avenue NE, Major Rehabilitation of US 52 Business Loop West from Bridge of James River to existing concrete by Don Wilhelm's and more.
Exit 257 was then brought up. Dillman stated there had been meetings with members of the North Dakota Department of Transportation.
Dillman says they're proposing Exit 257 will go away still with a future project.
The project is just a proposal at this point, but the NDDOT remains adamant to remove the Exit 257 overpass in the future. Councilmember Dave Steele says he remains concerned about removing the overpass, but they would need to seriously consider alternatives.
Later discussion was held regarding the Prairie Dog municipal infrastructure funds the city would be receiving in early 2021. The city of Jamestown is estimated to receive around $2.5 million over the next biennium.
Mayor Dwaine Heinrich stated he would like to see some of that funding go towards the UJ Stormwater project as part of the shared University of Jamestown and Jamestown Public School football stadium.
There was no action taken on Mayor Heinrich's suggestion, as no commitment to projects can be made until funds are received.