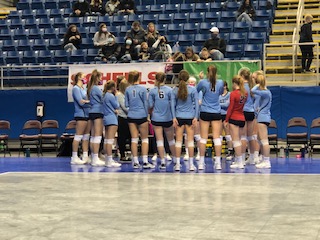 FARGO, N.D. (NewsDakota.com) – Sydney Gustavsson had a triple-double for Mandan leading the Braves to a 3-1 win over Valley City in the consolation semifinals at the State Volleyball Tournament at the Fargodome on Friday.
The senior setter filled the stat sheet with 10 kills, 39 assists, 22 digs, two aces and 1.5 blocks. Taylor Leingang led the offense with 19 kills. Avianna Moen added nine, Kate Kessler had seven and Morgan Sheldon chipped in six along with 14 digs. Piper Harris led the defense with 31 digs for Mandan.  Olivia Leingang had 16 digs and Elizabeth Felderman added 15.
Lexi Leroux led the Hi-Liners with 15 kills and 19 digs for the double-double. Dylann Diegel also had a double-double with 31 assists and 21 digs. Samantha Hatcher had 22 digs and five kills along with two aces. Jadyn Dieterle had eight kills and three blocks. Jocey Kriewald led the defense with 24 digs and added six assists.
Valley City, now 14-14 on the year, will play West Fargo Sheyenne in the 7th place match Saturday morning at 10am. Sheyenne lost to Bismarck Legacy 3-0. This will be the third time these two teams have met this season. The match can be heard on 1490AM / 96.3 FM KOVC beginning at 9:45 with the pregame show.