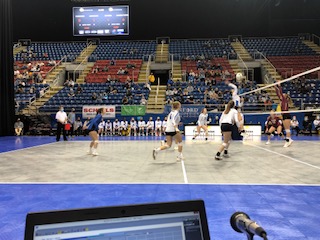 FARGO, N.D. (NewsDakota.com) – A year after winning the state championship, Fargo Davies finished third at the State Volleyball Tournament with a 3-0 win over Jamestown Saturday afternoon at the Fargodome.
The Eagles won 25-21, 25-23, 25-18.
In set one, neither team could get more that a two point lead until Davies used a 7-1 run to open up a 16-9 lead. Jamestown got within three on on three occasions down the stretch at 21-18, 22-19 and 24-21, but could not get over the hump and fell 25-21.
The second set saw a similar situation when Davies scored the first two points and never gave up the lead, but Jamestown tied it at 4 and 6.  But after the Jays tied it at 6, the Eagles scored seven straight to take control of the set at 13-6. Jamestown would get to within one point at 24-23, but the Eagles would take the set 25-23.
In the third set, Jamestown jumped out to a 4-1 lead only to see Davies score five straight points to take a 6-4 lead. The Blue Jays would use a 4-1 run to take an 8-7 lead. But the Eagles would answer with a 7-1 run to take a 14-9 lead. A lead they would not lose on the way to a 25-18 win and third place.
Senior Grace Hegerle led Jamestown with a double-double. She had 10 kills and 17 digs. Senior Ella Roaldson had team highs in kills with 14 and blocks with four. Junior Katie Trumbauer had 13 assists. Defensively, senior Rachel Schiele had a team high 21 digs. Junior Jenna Fischer added 11 digs.
The  Eagles were led by senior Grace Solberg with 14 kills and she added nine digs. Junior Ava Wild had 13 kills and five digs. Senior Olivia Marcil added 17 digs and six kills. Senior Maggie Krueger had a team high 27 assists and eight digs. Senior libero Justice Thilges had a team high 19 digs.
Jamestown ends the season 17-7 and Fargo Davies finishes 27-7.