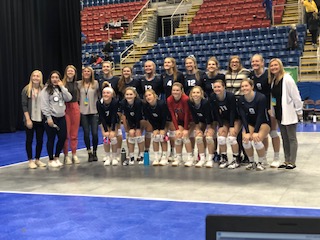 FARGO, N.D. (NewsDakota.com) – Valley City's volleyball season is in the books after a hard fought three set loss to West Fargo Sheyenne in the 7th place match at the State Volleyball Tournament Saturday morning at the Fargodome.
Sheyenne won 25-21, 25-20, 27-25.
Valley City jumped out to a 8-2 lead early in the first set. The Mustangs would go o a 6-1 run to cut the lead to one at 9-8. The Hi-Liners would go on a run of their own, 5-1, to get back the five point lead at 14-11. But Sheyenne would tie the score at 16, then eventually take the lead at 17-16 and then 18-16 with a 7-2 run. But in a set of momentum changes, Valley City would come back to tie it at 21 only to see the Mustangs score the last four points to take the set 25-21.
Valley City would jump out early in set two, taking a 5-2 lead but the two teams went back and forth as the set would be tied six times, the last time at 14-14. Sheyenne would take the lead and open it up at 19-14 part of a 8-0 run. The lead would stay between 3 and 6 points the rest of the way with Sheyenne taking the set 25-20.
Set three would turnout to be the best set of the match. The match would be tied six times in the first seven stops, 1, 3, 4, 5, 6, 7. The Mustangs would go on a four point run to take a 11-7 lead. A lead that would grow to five at 20-15.  Valley City would go on an 9-3 run to take the lead at 24-23. The two teams alternated the next two points to make it 25-24 Valley City. But the Mustangs would score the last three points of the set to win 27-25 to win the match 3-0.
Lexi Leroux and Dylann Diegel would each have a double-double. Leroux had a team high 12 kills and 14 digs. Diegel had 21 assists and 12 digs. Samantha Hatcher had five kills and 12 digs. Jocey Kriewald led the defense with 24 digs and Rachel Beierle had eight.
The Mustangs had three players record double-doubles. Colter Kennedy had 24 assists and 15 digs. Kailee Waasdorp had 11 kills and 26 digs. Jadyn Feist had 13 kills and 22 digs. Kenzie Urbanec had 12 assists. Lexus Terhark had seven kills and Alexis Burke led the defense with 36 digs.
Valley City ends the season 14-15 while West Fargo Sheyenne end the year 19-10.