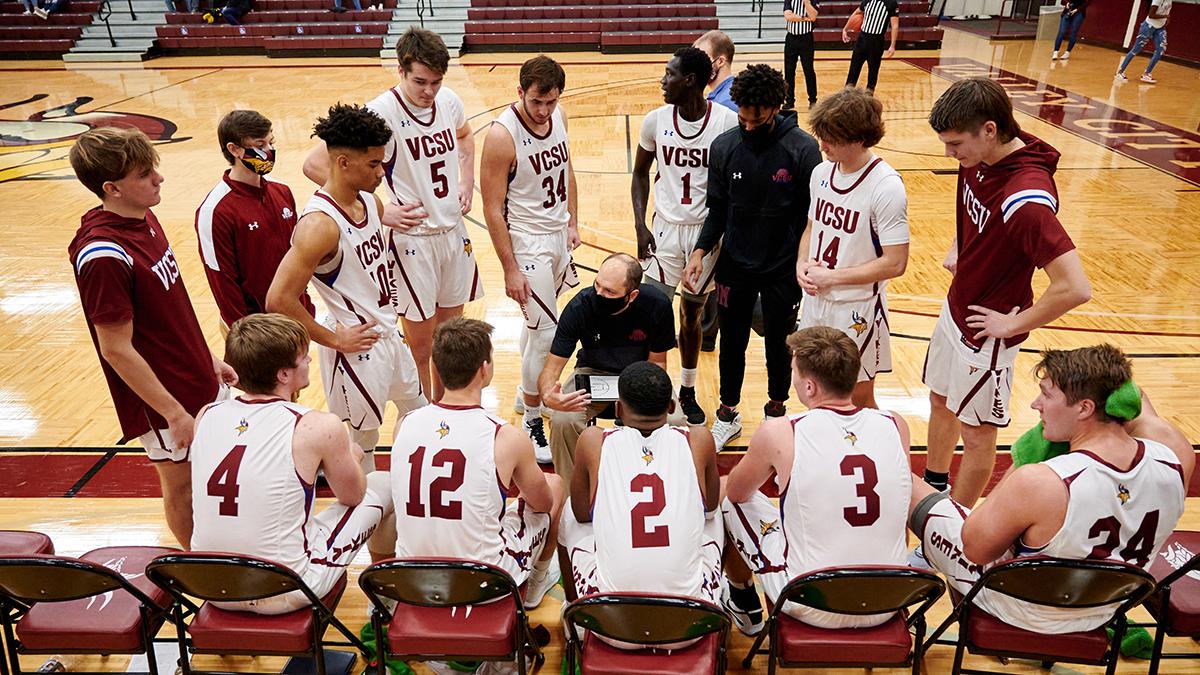 FOREST CITY, IOWA (vcsuvikings.com) – An early-season hot streak continued Friday night for Valley City State men's basketball team. The Vikings won their fifth straight game Friday, riding an aggressive full-court defense to an 87-74 victory over North Central University.
VCSU's full-court pressure helped force 33 turnovers that led to 26 points in Friday's victory at the Cobblesone Inn and Suites Classic, hosted by Waldorf University.
The Vikings improve to 5-1 overall this season. North Central drops to 1-1.
VCSU trailed 23-20 midway through the first half Friday before taking control of the game. The Vikings forced five turnovers over the next three minutes, fueling a 12-0 run that put the Vikings ahead for good at 32-23. VCSU did not trail the rest of the game.
"North Central did a good job of attacking out half-court defense, but our press saved us tonight," said VCSU head coach Ryan Montgomery. "Forcing 33 turnovers will get wins when you don't play as good as you are capable. We need to clean up our rebounding pursuit and overall situational play before conference starts. We will take the win and be happy with it because in a year like this, every positive is a plus."
Six different Vikings scored in double figures, including 16 points by Connor Entzi who went 8-for-11 from the field. Eddie Oyet poured in 14 points, reaching double figures for the fourth straight game. Chris Thompson added 13 points, while Matthew Schlottman made three 3's and finished with 11 points. Hunter Sand and Kevin Schramm both scored 10 points, and Joshua Kelly added nine.
The Vikings shot 50 percent from the field (37-74), 29 percent on 3's (9-31)and 67 percent at the free throw line (4-6). North Central made 53 percent of its shots (26-49) and went 47 percent on 3's (8-17) and 88 percent on free throws (14-16).
The Vikings forced 33 turnovers but turned it over just nine times in the game. VCSU finished with 18 steals and 17 assists.
North Central was led by 21 points from Seth Fuqua and 10 by Jonathan Thompson.
Up next: Valley City State continues the tournament Saturday in Forest City, Iowa, with a 1 p.m. game against Baptist Bible College.