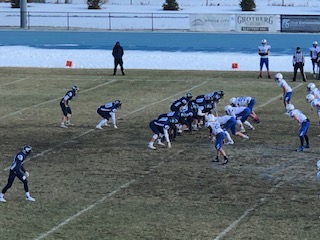 VALLEY CITY, N.D. (NewsDakota.com) – The 2020 North Dakota Class Double-A All-State Team has been announced and the Valley City Hi-Liners have three players on the first team offense. Max Fehr, Landon Hansen and Carson McGough.
Fehr, a senior running back, rushed for a team high 860 yards with 10 touchdowns in seven games. In his two years with the Hi-Liners, Fehr rushed for over 1,900 yards in 18 games.
Hansen and McGough anchored an offensive line that was part of a team that averaged over 150 yards rushing a game and 4.0 yards per carry.
The Hi-Liners ended the season with a 3-4 record with wins over the number five ranked team (Central Cass) and the number two ranked team (Hillsboro-Central Valley) in their last two games of the season.
Below is the rest of the All-State team for Class AA
N.D. Class AA
All-state
First team offense
Quarterbacks — sr. Jackson Uhler, Bismarck St. Mary's, jr. Blake Schafer, Wahpeton
Running backs — sr. Cullen Curl, Bismarck St. Mary's, sr. Max Fehr, Valley City
Wide receivers — soph. Caden Kappes, Wahpeton, jr. Brit Senftner, Bismarck St. Mary's, sr. Logan Prochnow, Central Cass
Offensive line — sr. Zach Haas, Bismarck St. Mary's, sr. Jacob Klaudt, Beulah, sr. Carson McGough, Valley City, sr. Landon Hanson, Valley City, sr. Aaron Ripplinger, Beulah
First team defense
Defensive line — sr. Ethan McKenney, Kindred, jr. Barrett Willison, Hillsboro-Central Valley, jr. Jack Weikum, Bismarck St. Mary's, sr. Chase Russell, Bismarck St. Mary's
Linebackers — jr. Trapper Skalsky, Beulah, sr. Reece Barnhardt, Bismarck St. Mary's, sr. Kaden Pastian, Hillsboro-Central Valley, jr. Isaac Williams, Central Cass, sr. Austin Richter, Hazen
Defensive backs — jr. Parker Gallagher, Hillsboro-Central Valley, sr. Adam Roden, Central Cass, sr. Nate Battest, Beulah, sr. Thomas Jackson, Bismarck St. Mary's
Second team
No position designated
Devils Lake — soph. Colton Schneider, sr. James Tice
Wahpeton — sr. Dez Munezero
Bismarck St. Mary's — jr. Isaac Felchle
Watford City — soph. Jason Hogue
Hazen — jr. Dawson Bruner
Kindred — jr. Max McQuillan, sr. Max Vikander
Central Cass — jr. Owen Wiersma
Beulah — sr. Dawson Zuroff, sr. Carson Weigum, jr. Tayton Vondra
Outstanding Senior Athlete of the Year
Cullen Curl, Bismarck St. Mary's
Coach of the Year
Dan Smekar, Bismarck St. Mary's
The All-State teams are voted on by the North Dakota High School Coaches Association
Three Hi-Liners Make All-State