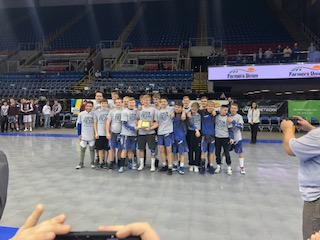 BISMARCK, N.D. (NewsDakota.com) – The Preseason North Dakota Class A Coaches Wrestling Poll was released this week and the Jamestown Blue Jays are preseason number 4 in the state and in the west.
Defending State Champion Bismarck is Preseason #1 followed by Dickinson, and Bismarck Century. After Jamestown at #4 is Valley City, Minot, Bismarck St. Mary's, Fargo Davies, Fargo South and West Fargo rounding out the top ten.
Valley City is preseason #1 in the east.
The Blue Jays have eight wrestlers that are ranked in the top four in the preseason. Grady Anderson is #3 at 113. He was 28-18 in last season. Pete Rasmussen is #3 at 120. He finished fifth at 106 last season and was 29-19.
Aden Braun is #3 t 132. He was 34-7 in 2020 and was a state runner-up at 113. Joel Bowman is #2 at 138. He was third at 126 last season and was 51-12.
Colton Mewes is #2 at 152. He placed third  at 138 last year and was 39-9. Austin Kessler is #3 at 195. He was 23-20 in 2019-2020. Daryeen Davis is #2 at 220. He was 12-23 last season. And Damien Krebs is the only Jay to be a preseason #1. He is the top pick at 285. He was 26-10 last season.
As a team, Jamestown was 16-7 in 2019-2020 and took third as a team at state. The Blue Jays were making their first appearance at the state dual tournament since 2003. Individually, Jamestown had a school record nine placers at state, including State Champ Noah Braun at 152. They had 136 team points to finish fourth in the individual state tournament.
Head Coach Larry Eslick was named the Class A Coach of the Year.