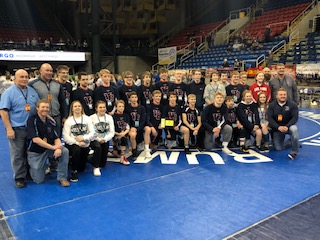 BISMARCK, N.D. ( NewsDakota.om) – The first North Dakota Class A Wrestling Coaches Poll was released this week and the Valley City Hi-Liners are preseason Number 5 in the state, right behind Jamestown, and Number 1 in the East.
In the preseason poll, the Hi-Liners have ten wrestlers ranked in the top four. Koltyn Grebel is preseason #2 at 106. Grebel was 17-14 in last season. Koye Grebel, state runner-up in 2020, is preseason #1 at 113. Grebel was 44-4 in 2020. Tucker Johnson is preseason #3 at 120.
Ethan Miller is #2 at 132. Miller placed fifth at 113 in 2020 with a 38-12 mark. Ezra Hanse is preseason #2 at 152. Hanse was 31-18 and placed 7th at state in 2020. Tyson Hovland in preseason #3 at 160.
At 170, Broden Muske is preseason #1. Muske placed 6th at state in 2020 and was 29-21 on the year. Jonathan Redfearn is #1 at 182. Redfearn placed seventh at state and was 24-22 on the year. And at 220, Carson McGough is #1 preseason. McGough was 21-15 last season and placed eighth at state.
Valley City was 14-5 overall in 2019-2020 and took fifth in the Team Dual State Tournament and fifth in the individual tournament with 117 points and a school record 10 state placers, including State Champion Parker Larson at 160. The Hi-Liners won the Eastern Dakota Conference Individual tournament with a school record 243.5 points with five individual champions. And were 9-0 in the EDC during the regular season.