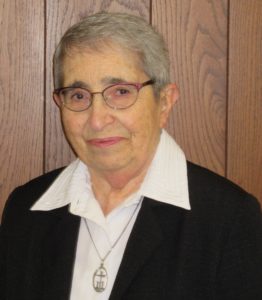 Sister Rose Therese Sevigny, 88 years old, died at Maryvale, Valley City, North Dakota, December 24, 2020. The Prayer Service will be at 7:00 p.m., Tuesday, December 29, and the Funeral Mass at 2:30 p.m., Wednesday, December 30, 2020 both at Maryvale chapel, 11550 River Road, Valley City, ND.  Services will be private.
Sister Rose Therese was born prematurely November 5, 1932 to Simeon and Clara (Demers) Sevigny at home near Oakwood, North Dakota. She graduated high school from St. Aloysius Academy, Oakwood, May, 1950. She made Vows of consecrated chastity, obedience and poverty to God with the Sisters of Mary of the Presentation (SMP), August 22, 1956. She received in 1964 her bachelor's degree in elementary education from the College of Great Falls, Montana and in 1981 her master's degree in elementary education with reading specialty from University of North Dakota, Grand Forks, ND. She worked as a nanny for her nephew Robert Sevigny Zidon and as a salesperson before entering the SMP. She was an elementary teacher forty years and worked in administration 17 years besides other ministries.
Sister Rose Therese lived and served at Notre Dame Academy, Willow City, ND 1956-57; St. Boniface School, Walhalla, ND 1957-60 and 1974-78; St. Cecilia's School, Harvey, ND 1960-63 and 1965-68; St. Joseph's School, Wild Rice, ND 1963-1965; St. Patrick School and Parish, Washington, Illinois 1968-74, 1993-96 and 2001-05; St. Catherine's School, Valley City, ND 1978-80; St. Louis School, Princeton, IL 1980-84 and 1996-2001; Comprehensive Child Development Project, Fort Totten, ND and as Provincial Assistant for SMP 1984-92 and 2005-14 and as a Librarian and Archivist 2014-20 at Maryvale, Valley City, ND.
She is survived by her Religious Community, the Sisters of Mary of the Presentation; sister, Shirley Suda, Grafton, ND; brother, Donald (Diane), Hoven, SD; sisters-in-law, Mary Ann Sevigny and Jane Zidon; numerous nieces and nephews, great-nieces and nephews and great great nieces and nephews. She was preceded in death by her parents; brothers, Wilfred (Marcella), Fabien, Peter; sisters, Agnes (Edmond) Campbell, Ida (Steve) Feltman, Doloria (Lawrence) Dusek, Lola (Raymond) Houdek; and brother-in-law Paul Suda.
Lerud Mathias Funeral Home in Valley City is assisting with arrangements.  An online guestbook is available at www.leurdschuldt.com